The groundbreaking beta version of the Recycle2Earn solution from Ecoterra is officially live, allowing users to start earning rewards by recycling their waste through its application.
Having concluded its extraordinary presale, Ecoterra is now embarking on its roadmap to help push the world into a sustainable future through its Web3 eco-friendly action ecosystem.
The project incorporates play-to-earn and GameFi mechanics elements to help incentivize users to start recycling and promote climate change activism.
With the signup procedure now live, the first 5,000 people that apply will receive a free 1000 $ECOTERRA.
Ecoterra Launches Signup for Its Revolutionary Recycle2Earn Application
Ecoterra is a project entirely focused on rewarding people for taking action on climate change.
The entire ecosystem contains a variety of ecological actions that users can take to help push sustainability for the world and earn rewards for their efforts.
The project wants to educate the public about the need for recycling and provide them with a solid incentive to do it.
Ecoterra is already starting to gain industry recognition for its environmentally-friendly solution after receiving an award at Blockchain Economy for "ongoing contributions for creating a sustainable crypto ecosystem";
A special thanks to @BEconomy_HQ and all attendees of the 2023 Istanbul summit!

We're honoured to receive recognition for our contribution to the sustainable crypto ecosystem 🏆

At ecoterra, we're committed to making a positive impact and will continue striving to do better! pic.twitter.com/nyV1rLAH4j

— ecoterra (@ecoterraio) May 12, 2023
Since concluding its momentous presale, which raised over $6 million in investment, Ecoterra is ready to unveil its ecosystem.
The first product in its arsenal is the Recycle2Earn application, which aims to encourage recycling to help fight global warming and climate change.
Through its groundbreaking Recycle2Earn application, users will be rewarded every time they recycle if they follow all the steps outlined in the application.
How To Recycle-to-Earn With Ecoterra?
Ecoterra has made the recycle-to-earn process extremely straightforward for its users, allowing them to earn rewards in three simple steps; scan, recycle, and earn.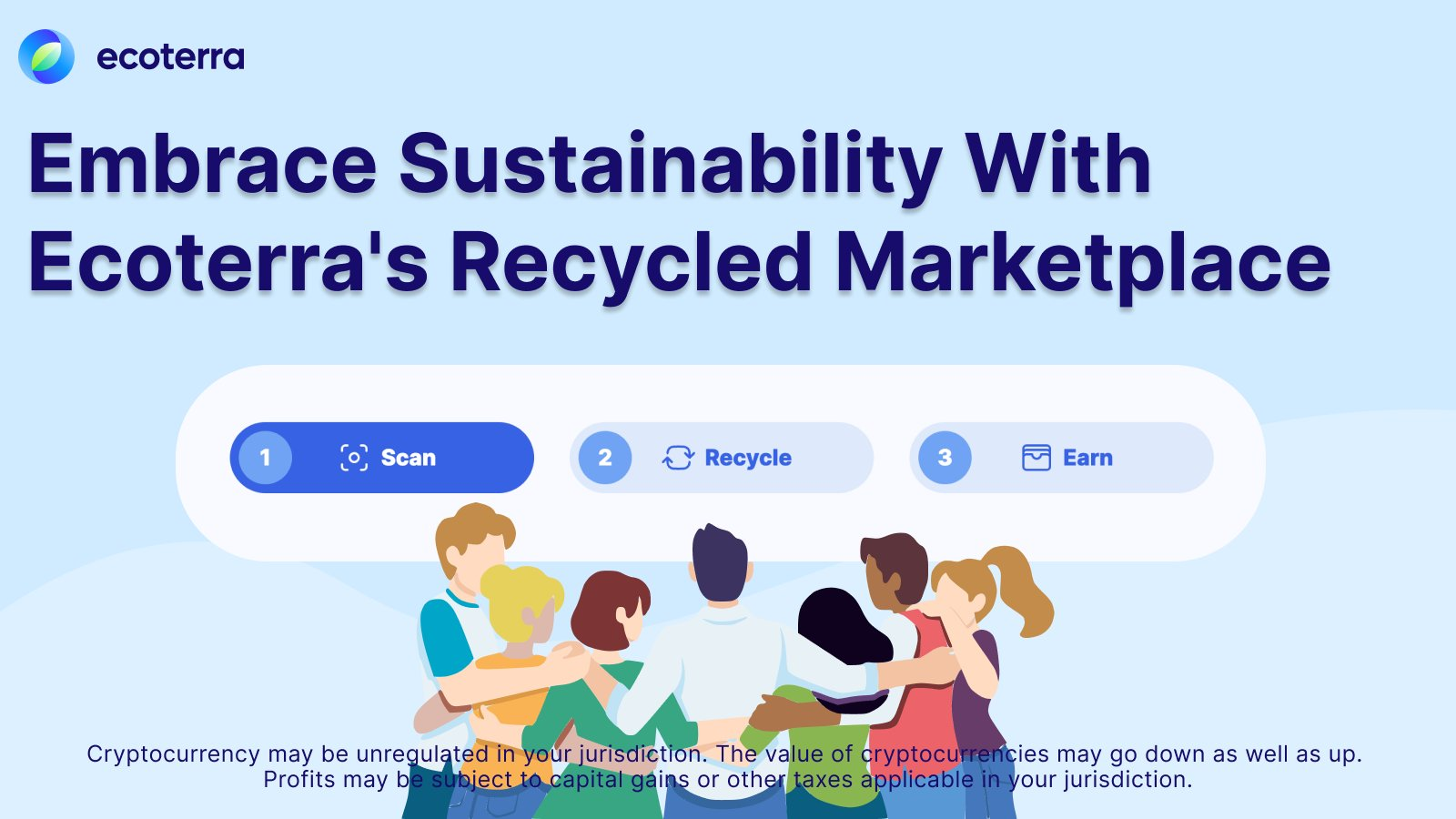 The first step in the process is to use the application to scan the barcode of the recyclable products to find an instant match in the AI-powered database.
Users can scan the barcode on products such as plastic, glass, or aluminum, and the team is constantly adding new products to its database to ensure every recyclable item can earn rewards.
Once scanned, the application will provide an instant quote on how much $ECOTERRA can be earned for recycling and will guide the user to the nearest Reverse Vending Machine (RVM) to start the recycling process.
An RVM machine lets people deposit materials, such as bottles and glass, for recycling. The industry was valued at $372 million in 2020 and is expected to reach $735 million by 2030 – showing the growing demand behind recycling.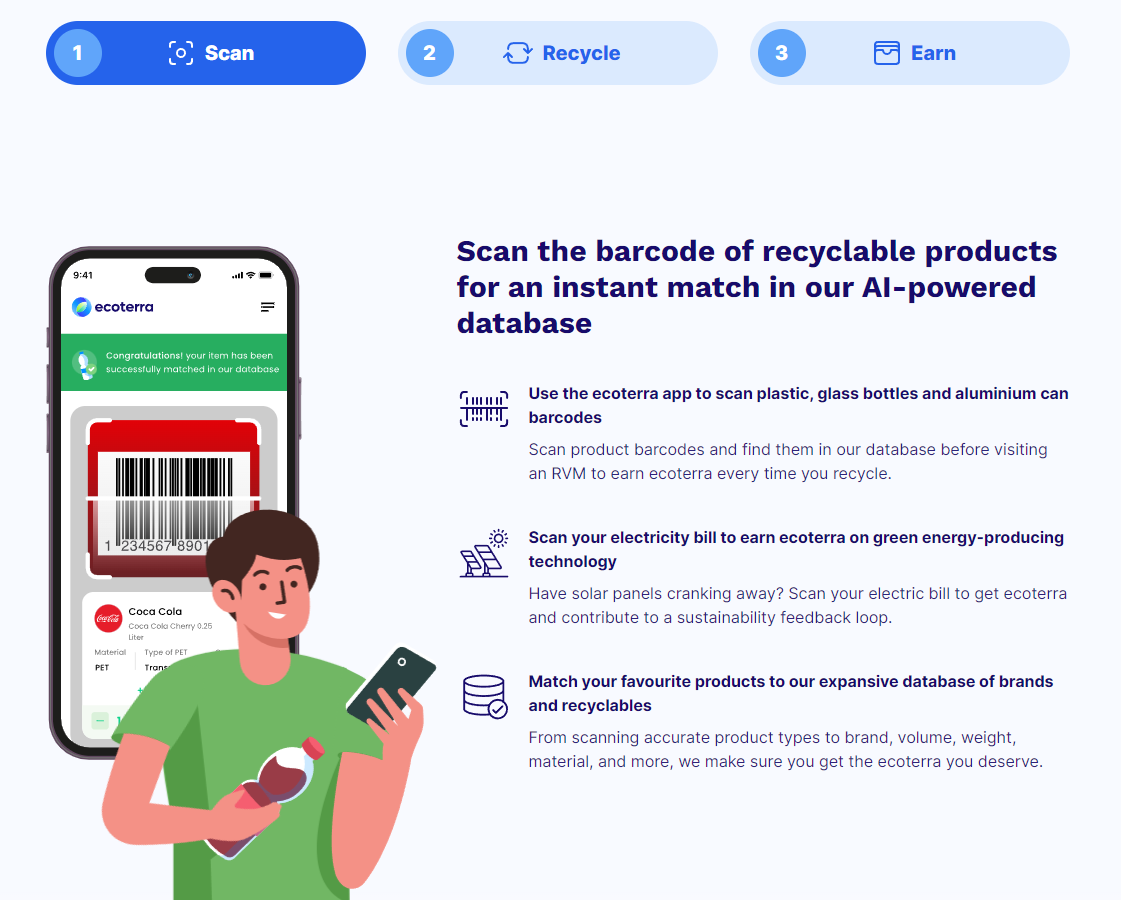 They're typically located at every supermarket in most major metropolitan cities, meaning the majority of people will have the opportunity to recycle and earn rewards.
Ecoterra has also partnered with Delhaize (Lion), one of the largest supermarket chains in Europe, North America, and Asia, to expand the reach of its Recycle2Earn application.
Once a user has deposited their items into the RVM, the last step is to take a photo of the receipt and upload it to the Ecoterra application to earn rewards.
It's as easy as that!
$ECOTERRA Listed on Exchanges and CoinMarketCap
With Ecoterra officially finishing its presale, the $ECOTERRA token has already launched and is gaining momentum in industry adoption.
As usual, early investors have banked their profits by selling the token, pushing the price lower to provide perfect entry opportunities for new investors.
The token has been added to a slew of major exchanges, such as BitMart, Lbank, and Uniswap;
📢🔄 Trade $ECOTERRA and unlock many opportunities! 💰💹

$ECOTERRA is now AVAILABLE on @BitMartExchange, @LBank_Exchange, and @UniSwap now! 🚀

Don't miss out on the chance to be part of the sustainable revolution 🌿#DeFi #Exchange #CryptoTrading pic.twitter.com/UQOGd1EY76

— ecoterra (@ecoterraio) July 30, 2023
Holders can even stake their $ECOTERRA on LBank and earn 12% APY;
🌱🌍 Stake $ECOTERRA, make a difference! 🌿✨

By staking $ECOTERRA on @LBank_Exchange, you can earn 12% APY while supporting sustainability and our eco-friendly initiatives 🌎💚

Stake now, earn rewards, and build a better future 🤝#EcoCrypto #Staking #Cryptocurrency pic.twitter.com/DDqPdcIY5L

— ecoterra (@ecoterraio) July 30, 2023
In addition, Ecoterra was recently listed on CoinMarketCap last week, pushing the token into mainstream index sites;
🚀 Exciting News! 🎉 We are thrilled to announce that #ECOTERRA is now listed on @CoinMarketCap! 🌿💹

Join the eco-friendly revolution as we embark on a mission to promote sustainable practices and positive environmental impact. 🌍💚#cryptocurrency #CMC #CMCListing #crypto… pic.twitter.com/z3uzp8LDvl

— ecoterra (@ecoterraio) July 26, 2023
Overall, with its product launch upon us, the recent drop in price provides the perfect opportunity for investors waiting on the sideline to enter and ride the wave higher before the Recycle2Earn application leaves beta and gains mainstream adoption.
More than Just a Recycling Application
Furthermore, investors have a wide range of additional features to look forward to as Ecoterra contains further eco-friendly products set for launch.

For example, the platform will feature a recycled materials marketplace, allowing users to purchase recycled plastics, glass, or aluminum using $ECOTERRA.
The marketplace is designed to connect companies all over the world who are looking to purchase recycled materials.
They will be able to browse and filter to find the best materials that make the most significant positive impact on the environment.
In addition, the project will also release a carbon offset marketplace that will let users buy carbon offsets to reduce their carbon footprint.
Lastly, there will also be an Impact Trackable Profile that will let users position themselves as leaders in the fight against climate change as they progress through the Ecoterra ecosystem.
The Ecoterra ecosystem has a lot in its pipeline to become the leader in the Web3 environmentally responsible sector.
Signup Today and Receive 1000 $ECOTERRA Tokens.
Ecoterra has launched the signup process to allow users to join the Recycle2Earn application and start earning rewards for their recycling efforts.
The first 5,000 users that sign up stand to receive 1000 $ECOTERRA tokens, providing the perfect incentive for people to get involved.
With the presale now over, the entire ecosystem has a strong roadmap ahead of itself to create a thriving eco-friendly project.