The price of eCash went up by more than 33% on June 30. The good news comes after Bitcoin Cash, the cryptocurrency eCash is based on, rose in value.
Overnight, eCash investors saw their holdings rise over 30% on June 30, 2023. A couple of weeks ago, Binance and Coinbase were sued by the Securities and Exchange Commission. However, eCash didn't get labeled as an unregistered security.
Moreover, with Bitcoin Cash (BCH) – the predecessor to eCash's XEC coin, – doubling in value recently, eCash supporters are hopeful.
eCash: A Distinct Blockchain Platform Derived from Bitcoin Cash
The eCash blockchain platform should not be confused with Ecash, an early cryptocurrency developed by David Chaum in 1983. A spin-off of Bitcoin Cash, which itself split from Bitcoin.
The eCash cryptocurrency was developed in 2020 by Amaury Sechet, a former Bitcoin Cash developer. It's an alternative currency similar to Bitcoin (BTC) and Bitcoin Cash (BCH). Initially, Bitcoin Cash ABC, the platform was rebranded in 2021 to establish its identity.
eCash: A Secure PoS Blockchain for Transactions and Exchange
A Proof-of-Stake blockchain runs the eCash network. The amount of XEC, an individual, owns determines who gets to verify transactions and add blocks to the blockchain. Different from Bitcoin and many of its derivatives, which use Proof-of-Work.
eCash uses a type of PoS called Avalanche, not the Avalanche blockchain (AVAX). eCash's Avalanche platform is specifically designed to handle increased network traffic.
XEC is a medium of exchange like Bitcoin and Bitcoin Cash. Cryptocurrency exchanges let you buy, sell, and trade it.
XEC Statistics Data:
XEC price now – $0.00004041
XEC market cap – $785 Million
XEC circulating supply – 19,431,342,173,293 XEC
XEC total supply – 19,431,342,173,293 XEC
XEC Coinmarketcap ranking – 51
Price History and Future Predictions:
Let's look at its price history to get a better idea of eCash's potential future performance. In making or interpreting price predictions, past performance can provide valuable insights.
As of early July 2021, eCash (XEC) had an initial value of $0.00002753. After hitting its all-time low on July 20, it gradually recovered over the following months as the market improved and more exchanges listed it.
The price of XEC reached its all-time high on November 10 but dropped to $0.00011 at the end of the year.
As the cryptocurrency market struggled in 2022, eCash wasn't spared. On June 18, it dropped to $0.000033 due to multiple market crashes.
Despite some recovery in the autumn, the collapse of FTX and subsequent market turmoil led to an annual loss of over 80% for eCash.
In 2023, eCash has had its ups and downs. In late January, it peaked above $0.0000455 before retracing its steps. Crypto.com's suspension of its American institutional work and the SEC's legal actions caused a drop to $0.000019 on June 10.
On June 30, eCash experienced a considerable surge. In just a few hours, it shot up from $0.0000246 to $0.0000325, up over 30%.
XEC coins were in circulation at that time, representing 19.431 quadrillions. Based on that metric, eCash had a market capitalization of $769 million. Over the course of 24 hours, it has a volume of about $1 billion.
A 33% increase in value in just one day has been seen in the cryptocurrency eCash (XEC).
With a current price of $0.00004084, eCash has a support level of $0.00003502 and is expected to break through the $0.00004821 level soon.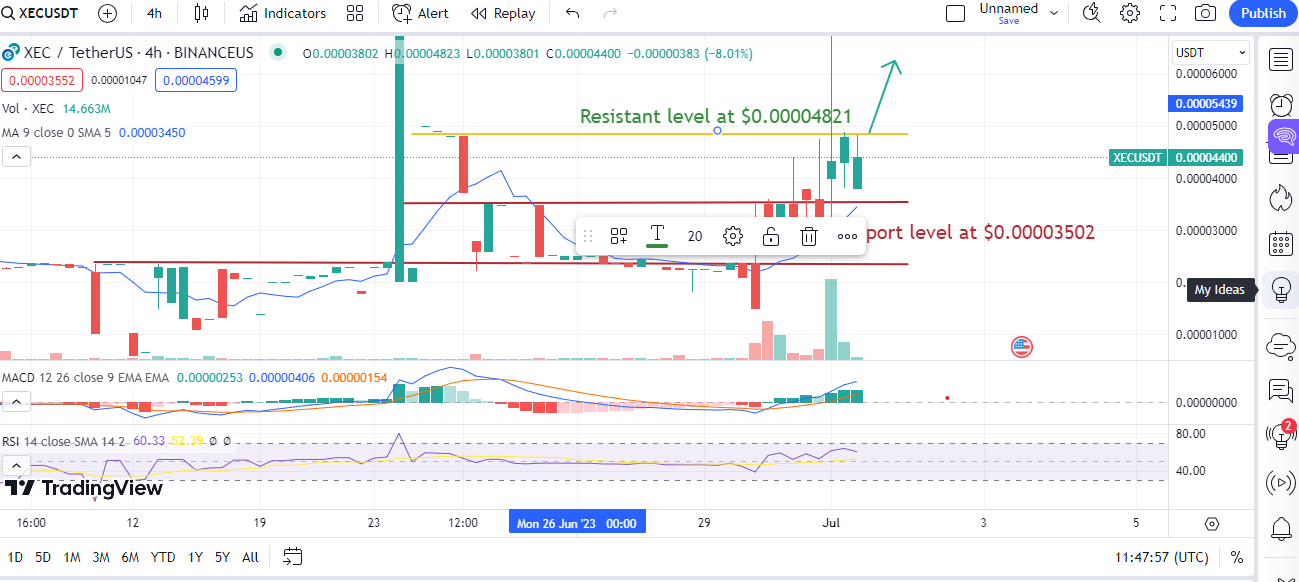 eCash is trading above the 200-day and 50-day simple moving averages, indicating a positive trend. Furthermore, eCash has had positive price movement for 17 of the past 30 days, showing its upward trajectory.
Here is our guide to investing in the best meme coin.
The prevailing sentiment says eCash's price will rise as of June 30, 2023. 22 technical analysis indicators indicate the bullish outlook, while the bearish outlook is indicated by 5. Basically, market participants are optimistic about eCash.
ECash's price could increase by 50% or more in the next six months. Cryptocurrency's lower transaction fees and faster transaction times should drive demand. Retailers are starting to accept eCash, which will further boost demand. The demand for cryptocurrency is expected to rise as more retailers accept eCash.
Introducing Wall Street Memes ($WSM): The New Meme Coin Making Waves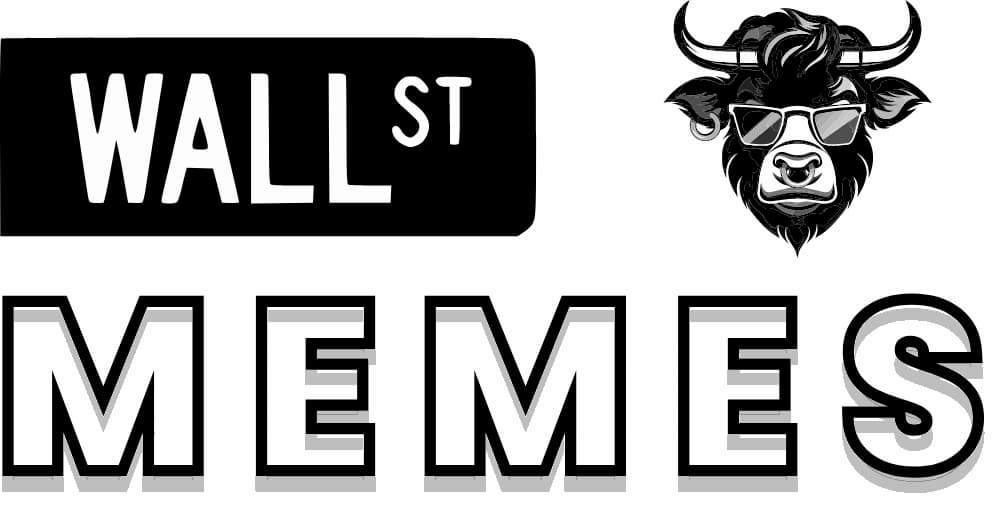 As a new meme coin, Wall Street Memes are making waves. The coin raised almost $11.751 million in its presale. Even better, its current price makes it a compelling investment.
Wall Street Memes isn't just a new player. The NFT world has also been impacted by it. The Wall Street Bulls NFT collection sold out in 30 minutes.
Wall Street Memes ($WSM) offers an exciting opportunity you don't want to miss.
Wall Street Memes (WSM): A Lucrative Investment Opportunity
The presale of Wall Street Memes raised $11.751 million, showing strong investor interest. While WSM is currently priced at $0.0307 per unit, its value is expected to rise to $0.031 during the presale, so now's the time to buy it.
With Ethereum, Tether, and credit/debit cards, it's easy to participate in the presale. Investors looking for unique investment opportunities are attracted to WSM because it represents the growing trend of meme coins.
By 2023, WSM tokens could be worth $0.06 by the end of the year.
The Federal Reserve right now pic.twitter.com/w2OAL9mzTE

— Wall Street Memes (@wallstmemes) March 17, 2023
WSM has already attracted the attention of influential figures like Elon Musk. A series of Bitcoin Ordinals NFTs will be launched by WSM, demonstrating their commitment to staying ahead of the curve.
WSM should be closely monitored because of these factors, and you should be ready to profit from any new developments.
Wall Street Memes – Next Big Crypto
Early Access Presale Live Now
Established Community of Stocks & Crypto Traders
Featured on BeInCrypto, Bitcoinist, Yahoo Finance
Rated Best Crypto to Buy Now In Meme Coin Sector
Team Behind OpenSea NFT Collection – Wall St Bulls
Tweets Replied to by Elon Musk