Even though Ethereum and Bitcoin are the two most popular cryptocurrencies, NEO has snowballed in recent years. The project is making good efforts to catch up with Ethereum, earning it the name "Chinese Ethereum."
As part of Neo's public blockchain rollout, N3 has been updated to version 3.
The timing could not have been better, considering Ethereum is struggling for a breather. As a well-positioned platform, developers expect NEO to boost the network's transaction speeds to 5000 TPS while reducing gas fees by 100 times. 
Furthermore, the NEO network will feature Oracle integration and a decentralized file storage system. Here is an expert price prediction for the coming weeks.
Experts Predict NEO's Price
With a 24-hour trading volume of $128,829,354 USD, Neo is currently trading at $12.87 USD. In the last 24 hours, Neo has dropped 1.25%. With a live market cap of $911,239,805, CoinMarketCap ranks NEO #57. The circulating supply is 70,538,831 and the maximum supply is 100,000,000.

According to crypto experts, the average NEO rate by the close of February 2023 could be $14.65 based on the price fluctuations of Neo at the beginning of 2023. We expect prices to range from $13.40 to $15.07 for its minimum and maximum.
Trading costs may be as low as $14.54, while they may reach as high as $15.80 during March. Neo might be valued at $15.24 on average.
By March 24, 2023, NEO's 200-day SMA could rise to $8.98 based on our technical indicators. By March 24, 2023, NEO's 50-Day SMA is estimated to reach $12.66.
We predict NEO to reach $14.15 by February 27, 2023, up 3.45% from our current price prediction.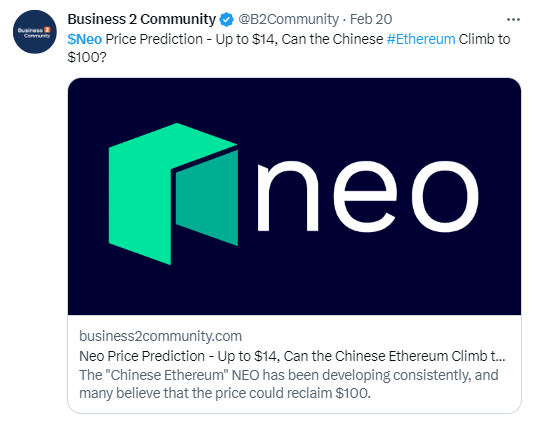 According to our technical indicators, the fear & greed Index for the current period is showing 59 (Greed). Over the last 30 days, NEO has been green on 19/30 (63%) days, with price volatility of 14.54%.
What Neo is all About
Neo offers NeoContracts, a smart contract-based system different from other smart contracts. Several popular languages are available for developers to choose from rather than learning a new one. 
This may make NeoContract attractive to developers who wish to build or support decentralized applications (DApps) across many programming languages. The Neo blockchain uses a consensus mechanism called dBFT to protect its blockchain and sync its distributed network.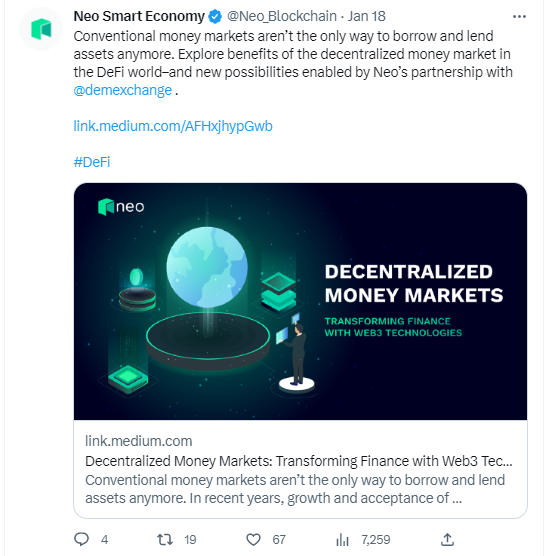 Like delegated proof of stake (DPoS), dBFT uses a real-time voting system to select which Neo computers will build the next block. Everyone with NEO can contribute to the network's operations under this system.
In What Way Does Neo Help?
The Neo platform allows developers to create DApps that mimic real-world products and services by running smart contracts (called NeoContracts). As a flexible alternative to Ethereum, it seeks to provide more flexibility. 
The organization evaluates design options across several variables as part of its design philosophy. So, the NEO token serves as Neo's governance token.
Neo tokens may be staked or locked to show a vote on proposed changes. Consensus nodes produce blocks for all NEO coin holders who stake their coins. Consensus nodes earn network transaction fees for proposing and adding new blocks to the Neo blockchain.
In response to the voting results on the network proposals, Neo may adjust its market strategy accordingly. Depending on the use case, Neo developers may select the right amount of decentralization/centralization for a project. 
Furthermore, they may make comparable decisions about on-chain/off-chain governance and other critical issues. Considering these options, NEO has more use cases for commercial and government use.
You can buy Neo at the current rate on Binance, OKX, Deepcoin, Bybit, and BingX, which are the top cryptocurrency exchanges that trade Neo stock.
More News
Where to Buy Binance Coin (BNB)
Fight Out (FGHT) – Newest Move to Earn Project
CertiK audited & CoinSniper KYC Verified
Early Stage Presale Live Now
Earn Free Crypto & Meet Fitness Goals
LBank Labs Project
Partnered with Transak, Block Media
Staking Rewards & Bonuses