Currently, the Price of CyberConnect is about $5.59, and investors and traders have traded around $101.75 million. CyberConnect's Price has increased by more than 200% since its launch on different exchanges. On this very day, August 15, at precisely noon UTC, the $CYBER coin debuted, starting at $1.8.
CyberConnect Statistics:
CYBER's Price – $5.59
CYBER Market cap – $61.69 Million
CYBER Circulating supply –  11,038,000 CYBER
CYBER Total supply –   100,000,000 CYBER
CYBER CoinMarketCap ranking – 338
On August 15, 2023, Binance and other crypto exchanges will start trading CyberConnect (CYBER), including pairs like CYBER/BTC and CYBER/USDT. The Bitrue team is hosting a special event to celebrate the listing of CYBER, giving participants 10% cashback. Bybit's Spot Trading platform will also welcome CYBER on the same day, with Spot Grid Bots and enticing rewards. Crypto community interest has been sparked by Woo X's announcement about CYBER's listing, while MEXC and Coinstore plan to list CYBER soon.
🥳 Trading Competitions for $SEI & $CYBER are now available on Bitrue!

🎁 Trade $SEI/USDT and $CYBER/USDT to share 20,000 $USDT prize pool

👉 Join Now https://t.co/7OglUNiOi0 pic.twitter.com/JqOUG1wRdZ

— Bitrue (@BitrueOfficial) August 15, 2023
CyberConnect Price Forecast: Worth Investing?
CyberConnect is like a special kind of social network. It helps developers create apps where people can connect directly, and they get to own their stuff, like photos and messages. This is part of something called Web3, which is about giving control to the users.
In CyberConnect V3, they introduced something called CyberAccount. It's like a tool that lets you do nifty things on different parts of the Internet. Another thing, ERC-4337 Account Abstraction, helps you use money across other places using CYBER. And CyberGraph is like an intelligent system that connects who you are with what you do online using blockchain technology.
CyberID is like your unique name on CyberConnect, and it's sort of like usernames on other websites. It's a special thing that shows who you are in this fantastic world. And there's W3ST, which shows where you are in your online group. It's like a special badge you can't trade.
The Time is Now ⚡️ 🔥#CYBER is now available for trading on top DEXs & CEXs!

🔗Verified Links for all trading platforms here: https://t.co/m0qdNXFhB3 pic.twitter.com/x6HtQ9VlKg

— CyberConnect (@CyberConnectHQ) August 15, 2023
Promising Alternative to CyberConnect
Pikamoon coin (PIKA) is currently being sold for $0.0006 in its phase 3 presale, the last part of the Pikamoon presale that began in March 2023. While it's cool that the coin will soon be on regular exchanges, it's important to remember that you might not always make money from it.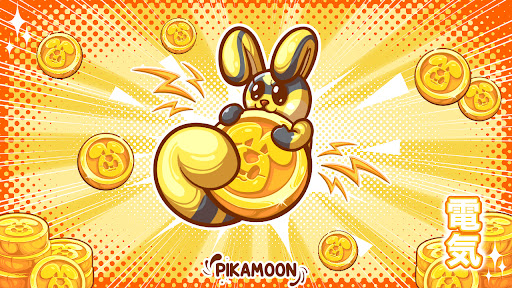 Lately, the crypto markets have been a little uncertain. Since the Price of BTC isn't changing much, many other coins (called altcoins) are being sold more. Meme coins are prevalent, making it ideal to start a project like Pikamoon Coin (PIKA). And guess what? The folks behind this project are excited!
PIKA: Your Ticket to Pikaverse Adventures and Opportunities
PIKA is the main currency in the Pikaverse, like Pokémon, where you can earn points. You can use PIKA to buy unique things in the game and play them. It is expected that more than 50% of PIKA coins will be sold before the end of the year.
When PIKA first started, it only cost $0.0002. Then, it went up to $0.0004, now at $0.0006. The early presale has already raised almost $3.9 million, and they want to reach $6 million. The folks behind this project say PIKA could be worth $0.0007 in prominent places where you trade money. When PIKA was cheaper, you might have been able to make 5 to 10x more money.
For more information, visit Pikamoon Coin.
Wall Street Memes – Next Big Crypto
Early Access Presale Live Now
Established Community of Stocks & Crypto Traders
Featured on BeInCrypto, Bitcoinist, Yahoo Finance
Rated Best Crypto to Buy Now In Meme Coin Sector
Team Behind OpenSea NFT Collection – Wall St Bulls
Tweets Replied to by Elon Musk