The future of cryptocurrency mining in Canada, according to proponents, is in jeopardy after several provinces restricted new projects earlier this year over concerns about their electricity usage.
The abundance of clean, affordable electricity in Canadian areas like British Columbia and Quebec has attracted cryptocurrency entrepreneurs, the majority of whom are focused on Bitcoin. To run the rows of powerful computers necessary for crypto mining, the majority of cryptocurrency operations require unrestricted access to cheap power.
How come Canada? Dan Roberts, an Australian bitcoin entrepreneur whose company, Iris Energy, runs three facilities in British Columbia, explained that first,
We asked what are the key ingredients you need to run this computing service. Cold temperatures are crucial. stable legal system, effective regulatory authority. In addition, renewable energy is crucial.
A number of Canadian provinces have taken action to impose restrictions on new cryptocurrency mining operations, raising concerns about Canada's position in the developing industry.
Dan Roberts predicted that cryptocurrency mining in provinces like British Columbia, which now has an electrical surplus, could lead to a new wave of economic success.
We could create an entire industry around this. We can visit those small settlements in the surrounding areas that were completely destroyed when the pulp and paper mill closed. Return all these benefits to the community by rehiring and retraining local people.
Government Erecting Barriers
However, several regions have put the brakes on new projects, claiming the mining sites—where computers process intricate equations to validate cryptocurrency transactions on the blockchain ledger—consume an absurd amount of electricity.
Seven mining sites are actively active in British Columbia, while another six are in advanced stages of development. However, it has also put an 18-month hold on adding any new cryptocurrency mining operations to its electrical system, preventing 21 other projects that the province claims would have consumed enough electricity to power 570,000 homes.
Manitoba has also suspended new cryptocurrency connections, while Hydro-Québec has increased rates and capped the amount of electricity that mining operations can consume. An incentive program that would enable cryptocurrency miners to save money on electricity has been proposed by Ontario to be excluded from.
Similar government restrictions in the United States
Other countries such as the United States have started to clamp down on mining for various reasons related to concerns about energy consumption and sustainability.
On January 13 this year, environmentalists filed a lawsuit against the New York Public Service Commission (PSC) for allowing the takeover of a bitcoin mining plant in the state.
Interestingly, the site was slated to be taken over by the Canadian cryptocurrency mining company Digihost and is situated in Tonawanda, a town less than 10 miles from Niagara Falls.
The lawsuit alleged that a 2019 New York climate law, was violated by the approval.
Also, as we reported earlier this year, in New York the governor made the decision to sign a two-year embargo on new fossil fuel-powered cryptocurrency mining projects in November of last year. Environmentalists claimed it may serve as a precedent for other governments because it has already been reported that some cryptocurrency companies have decided not to invest in the state.
Future investments in Canada are hampered by uncertainty
After American, Chinese, and Kazakh crypto operations, Canadian miners currently supply the fourth-highest amount of computer power to the blockchain network. Some cryptocurrency fans are doubting if Canada will continue to be a big participant in the industry in light of efforts by some governments to regulate the sector's access to electricity.
"Since I am a publicly traded firm with shareholders, I must wait to act or postpone doing so until I am aware of the rules. I consider whether to invest in Canada or somewhere more profitable if I am aware of the restrictions," said Sheldon Bennett, CEO of DMG Blockchain Solutions and member of the lobbying group Canadian Digital Asset Mining Coalition.
Josie Osborne, the energy minister for British Columbia, stated before The House that the province's decision to implement the ban was made in order to give the sector time to provide input on how best to use energy.
Cryptocurrency mining consumes massive amounts of electricity to run and cool banks of high-powered computers 24/7/365, while creating very few jobs in the local economy.
Osborne said that while BC now has an energy surplus, this may not always be the case.
"We don't want to jeopardize that electricity. This is why we must pause now and use the energy to seize the finest opportunities down the road", she told host Catherine Cullen.
According to Osborne, British Columbia must consider alternate uses for its electricity if it is to meet its economic and climatic objectives. It also doesn't help British Columbia reach its climate targets, she continued.
"Cryptocurrency mining doesn't lower pollution in other industries," she claimed."We want to use that electricity for activities in our mines, forests, maritime ports, and hydrogen operations so we can blend natural gas and decarbonize there using the hydrogen. We want to make the best use possible of these electrons."
Osborne did make it clear that her administration is fairly amenable to integrating new crypto operations in the future.
An old-fashioned hot topic in Canadian politics was cryptocurrency. When he successfully ran for the Conservative leadership (and notably used Bitcoin to pay for a shawarma lunch less than a year ago), Pierre Poilievre was a booster of it.
At the time, Poilievre proposed that since cryptocurrencies are not controlled by central banks, they would enable common Canadians to "opt out" of inflation.That was previous to the meltdown of numerous cryptocurrencies last year; by the end of 2022, Bitcoin's value had decreased to around one-fourth of what it had been a year earlier.
But progress is being made in the formulation of crypto policy. While the Bank of Canada is now conducting a review of digital assets, the Canadian Securities Administrators (CSA), the umbrella body that represents Canada's provincial and territory securities regulators, has lobbied for limitations on cryptocurrency trading.
Some cryptocurrencies, such as Ethereum, the second-largest cryptocurrency, have switched to a "proof of stake" mechanism, which eliminates the necessity for mining and, consequently, the majority of the energy used by the currency. Other initiatives are emerging that are aimed directly at addressing environmental concerns, such as the new crypto project Ecoterra, which is currently having a pre-sale. More details about this pre-sale can be found below.
Because Bitcoin still operates on a "proof of work" premise, mining is important. Bennett expressed his skepticism on Canada's interest in cooperating in the emerging industry.
What will Canada ultimately decide to do with this sector? Does it wish to nurture and develop it? Does it value the technology, the jobs, and the incoming investment and want to expand that?" he questioned. Or does it prefer to take a back seat and see how other nations handle it?
Ecoterra Presale
In the area of sustainability and eco-friendliness, there is a new project that is showing a lot of promise toward addressing negative environmental impacts.
Ecoterra is developing a system to reward recyclers and a system to encourage ecological action actions that benefit our environment in order to assist in achieving those goals.
The most crucial component of the ecosystem is the recycle2earn app from Ecoterra. Users of the smartphone app have access to the platform's three primary pillars: the markets for recycled materials and carbon offsets, as well as the impact profile, which tracks ecological acts.
Ecoterra's CEO Mihai Ciutureanu on the Market for Recyclable Materials' Filtering System
In a recent AMA on Coinsniper, ecoterra CEO Mihai Ciutureanu gave his audience an explanation of some of the design choices made for the project, how it would operate, and what will be done with the money raised from investors.
According to Ciutureanu,
The Recycled Materials Marketplace serves as a platform that connects businesses in need of recycled materials with recycling businesses providing those resources. The marketplace makes sure that the products posted are in line with the precise requirements of purchasers by utilizing a sophisticated screening mechanism.
Payments may be made using other cryptocurrencies or $ECOTERRA tokens, and for better transparency, the purchase history may be linked into a company's trackable profile.
He included an explanation of the team's decision to use the Ethereum blockchain. "In our opinion, Ethereum is the blockchain that best meets our needs. It facilitates the creation of smart contracts that are suited to our particular needs and is trustworthy and safe.
Liquidity Pool and Corporate Onboarding Strategy of Ecoterra
Ciutureanu continued by providing some further details on the tokenomics used by ecoterra.
"The ecosystem liquidity pool (LP) balances the $ECOTERRA that comes in from fees and packages that businesses buy with the $ECOTERRA that goes out to reward users of the Recycle2Earn app.
He said, " For corporate adoption, we will focus on the initial set of businesses and entice them to join our ecosystem by providing free trial packages.They will be able to comprehend the workings of Ecoterra's ecosystem better thanks to this method."
The CEO's discussion of how his team plans to fulfill the roadmap milestones may have been the most crucial.
While continuing to work on the other Ecoterra pillars, we aim to release the beta version of the Recycle2Earn app before the end of the year.
Promoting Sustainable Actions and Recognizing Environmental Stewardship: Ecoterra's NFTs
Experts anticipate more interest in initiatives like ecoterra that score highly in the environmental, social, and governance categories. To put that into perspective, it may result in an exorbitant return on investment for early purchasers, resulting, at the very least, in a ten-bagger (10x) price for Ecoterra.
As mentioned, there are several benefits to purchasing Ecoterra. If you are still not persuaded, there is always the non-frivolous use case for NFTs that the team came up with. With Ecoterra, all environmental initiatives that a person or business performs are added up to milestone achievement totals that are represented by non-fungible tokens (NFTs).
Every activity is measurable and serves as the primary input for the impact profile of each person or business. By using NFT technology, environmentally friendly activities like planting trees or eliminating plastic from the environment are made marketable commodities.
NFTs, in essence, provide us all more motivation to act in the best interests of the environment. By producing renewable energy, you may make money and help the environment.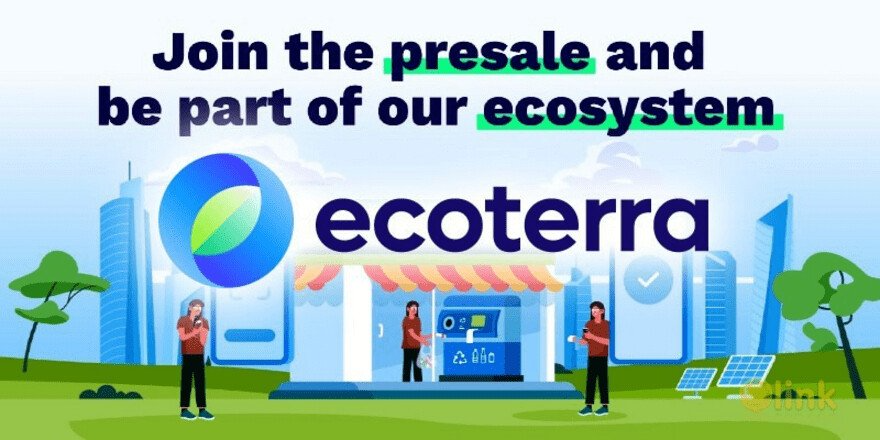 Pre-sale opportunity ending soon
The current Stage 4 of the presale has only five days left. However, as there is only $300,000 left, this level will be sold out much before then.
Since Ecoterra has been selling at a rate of about $200,000 per day on average, Stage 4 may be completely sold out in the next 2 days. This indicates that the window of opportunity to lock in the present cheap price is getting smaller. In order to lock in the Stage 4 $ECOTERRA token price of $0.0065, prospective investors must act quickly.
The token price increases by 12% when Stage 5 begins, from $0.00625 to $0.0070.
As the pre-sale ends, experts anticipate high returns for investors.
As the pre-sale progresses, the fundraising run rate keeps increasing, and analysts anticipate significant returns on investment for early purchasers of the $ECOTERRA token. There truly is not much time left because the presale has been so successful that it could be completely sold out by the end of April.
Investors who want to purchase $ECOTERRA tokens must have ETH or the Tether Stablecoin (USDT). Those who are not familiar with cryptocurrencies can make purchases using a card and regular "fiat" money.
After the presale is over, $ECOTERRA will list on exchanges for $0.01, which is 150% more expensive than Stage 1's $0.004 pricing and 60% more expensive than Stage 4's current price.
Participate in the Pre-sale Now
Related
Love Hate Inu – Newest Meme Coin
Decentralized Polling – Vote to Earn
Early Access Presale Live Now
Ethereum Chain
Mint Memes of Survey Results as NFTs
Staking Rewards
Viral Potential, Growing Community