Cocos Blockchain Expedition is a decentralized autonomous organization (DAO) that aims to use decentralization technology and MetaFi to enable the future Metaverse. The project currently develops various infrastructures for GameFi, NFT, IGO, and more.
Cocos-BCX seeks to connect more creators into the crypto world via GameFi incubation, distribution, IGO investment, and community while continuously providing top-notch GameFi projects to the community's users.
Its crypto token, COCOS, saw a downtrend of 0.90% in the last 24 hours. However, the coin and the general crypto market have been on a rally in the last 30 days. Could now be the best time to buy?
Buy the Dip for Long Term Gain
The broader crypto market has kept up a good rally and has seen an uptrend of 1.10% in the last day. However, some digital assets, such as COCOS, have dropped by 0.90% in the last 24 hours. Investors should note that the crypto asset has steadily rallied in the last month, and coupled with the broader crypto market rally, COCOS might see a rebound in a short time.
At press time, COCOS price is trading at $2.40 after experiencing a downtrend of 0.90% in the last 24 hours. However, the digital asset had maintained a steady surge of 8.8% in the last seven days and a 272.1% increase in the last 30 days.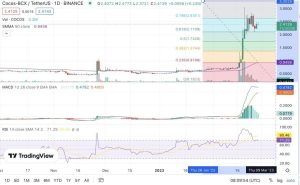 Its technical analysis shows the digital asset is still currently bullish. Following initial resistance at the 78.6% Fibonacci retracement level of $2.63, the crypto asset has recovered and is heading back toward the 78.6% retracement level.
COCOS trades above the 50-hour simple moving average (SMA) indicator in the short term at $0.94. The 200-day SMA for the long-term prediction is $0.83, which is still below the current price.
A steady market rally could cause the digital asset to break through the resistance level and go on to hit the 100% Fibonacci retracement. Therefore, investors should keep an eye out for COCOS's performance.
The crypto asset's moving average convergence and divergence (MACD) value shows a buy signal, while the current Relative Strength Index (RSI) of 71.29 puts COCOS in the overbought region.
BTCEX Launches USDT-Margined COCOS 25x Perpetual Contracts
Recently, BTCEX announced the launch of USDT-margined COCOS perpetual contracts. BTCEX is a full-category digital asset trading platform that provides services ranging from beginner-friendly copy trading to crypto derivatives such as perpetual contracts.
💥New Listing💥$COCOS will be listed on #BTCEX@CocosBCX

Trade now▶️ https://t.co/cZL6gFyBuB

More info 🔽https://t.co/OgTLBMStOu#CocosBCX #COCO #Cryptotrading #Newlisting #Cryptocurrencies pic.twitter.com/76o6aqUQrk

— BTCEX (@BTCEX_exchange) February 24, 2023
COCOS USDT Perpetual Contracts are futures contracts that use USDT as collateral and have a USDT margin. Users can select from 1x to 25x leverage.
USDT-margin contracts are linear futures contracts that are listed and fixed in USDT. One significant benefit of USDT settlement is that users can easily calculate their returns in fiat currency. This improves the clarity of USDT-margin contracts.
Alternative Coins to Explore for Profit Aside Cocos
COCOS's technical analysis presented above reveals the coin's high investment potential. However, investors should keep an eye out for other value-driven altcoins that can provide profits. The good news is that they can be early adopters because several of these coins are currently in the presale stage.
One such profitable coin is CCHG, the digital token of the eco-friendly crypto startup C+Charge. The project aims to develop a strong Peer-to-Peer (P2P) payment mechanism for electric vehicle (EV) charging stations using blockchain technology.
C+Charge aims to create a sustainable environment by establishing a network that reduces carbon emissions and their negative environmental effects.
📣BIG NEWS

We're happy to announce that from today, you will be able to purchase $CCHG using $ETH during our #presale 🙌

Join the presale now and celebrate this next milestone with us🔽https://t.co/ixe18bPqzI#ReFi #GreenEnergyCrypto #cryptocurrencies pic.twitter.com/8uozO8nJB2

— C+Charge (@C_Charge_Token) February 27, 2023
The $CCHG token powers the project's economy and is currently priced at $0.017. The digital asset's presale has reached the fourth of its eight scheduled stages, with more than $1.73 million raised.
Another valuable altcoin that investors should consider is FGHT. The digital asset serves as the native token for the Play-to-Earn (P2E) platform, Fight Out, which enables users to gain knowledge from professional athletes and fighters. Users can also earn incentives and badges for completing fitness tasks and competing in the Metaverse.
Get ready to unleash your full potential! 👏

The Fight Out platform is the bridge between Web2 users and the Web3 world.

Join the presale and claim your 67% bonus! 🚀https://t.co/z34Nkx3ffi#CryptoPresale #CryptoCurrency #Web3 pic.twitter.com/j0H3rF0ukG

— Fight Out (@FightOut_) February 26, 2023
FGHT's presale had raised over $4.78 million as of this writing. The coin is currently priced at $0.02516, which will rise every 12 hours until March 31st, when it will be listed on exchanges for $0.0333.
Related News
Fight Out (FGHT) – Move to Earn in the Metaverse
CertiK audited & CoinSniper KYC Verified
Early Stage Presale Live Now
Earn Free Crypto & Meet Fitness Goals
LBank Labs Project
Partnered with Transak, Block Media
Staking Rewards & Bonuses