CSPR, the cryptocurrency that power's the Casper Network blockchain, was last up over 12% on the day, as per Trading View data. CSPR/USD was last changing hands around $0.038, having just missed out on hitting $0.04 earlier in the session. The bulls have been firmly in control since CSPR retested support in the form of its 200-Day Moving Average just under $0.032 on Monday. Price predictions have subsequently become more bullish.
At current levels, CSPR is now trading higher by nearly 38% this month, with the cryptocurrency benefitting amid broader positive flows in the cryptocurrency space. Traders have cited an easing of Fed tightening bets in early 2023 in light of recent evidence of softening US inflationary pressures (CPI and wage growth both dropped in December) as boosting crypto sentiment.
Price Prediction – Where Next for CSPR?
CSPR's attempt to break below its mid/late 2022 uptrend in December has been confirmed as a fake-out in light of the upside seen in recent weeks. With CSPR now back to the north of all of its major moving averages, technicians now view a retest of the key $0.055 resistance zone as more likely than a drop back to last year's lows in the $0.022s.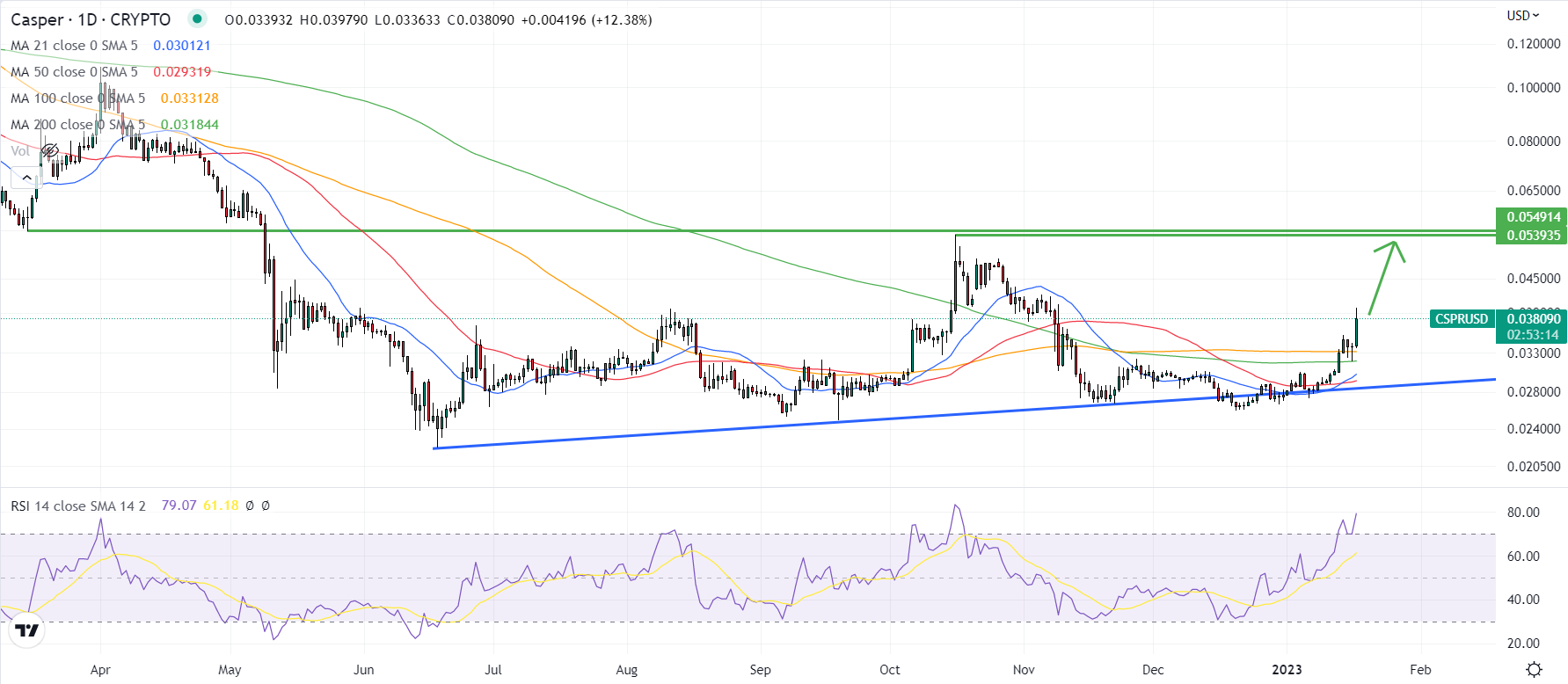 Casper Benefitting From These Tailwinds
One potential tailwind adding fuel to the recent CSPR rally is that Casper Labs' Medha Parlika will be making a high-profile appearance at the Blockchain Hub conference in Davos alongside the Changpeng Zhao, CEO of the world's largest cryptocurrency exchange Binance. Casper Labs is the company behind the Casper Network. Traders hope that Medha's appearance might boost the profile of the Casper Network, resulting in higher demand for its token.
Amazing meeting between Medha @Casper_Network and CZ @cz_binance on next Wednesday! I expect a deep quality conversation and maybe some extra news! We also wanna see $CSPR listed on Binance , aren't we?…. #CSPR #Binance #davos2023 pic.twitter.com/maDqkvFfIV

— Wolf.Cspr (@Cryptoyon) January 16, 2023
Casper's network also recently reached a few significant milestones. As of one week ago, there are now over 100,000 individual CSPR holders, as well as over 100 network validators.
Congratulations @Casper_Network @Casper_Labs for breaking 100,000 $CSPR holders! 🥳 pic.twitter.com/0rDqBL68Do

— Justmy2satoshis 🇦🇺 (🤝,🏔️,🏦) (@My_2Satoshis) January 11, 2023
Potential future tailwinds for the Casper token in the coming months include 1) the network is expanding its partnership with IBM and Hyperledger, 2) the network will soon be announcing a new partnership with a fortune 100 company, 3) the network will be upgrading to Casper 2.0 in Q3.
READ: Many reasons why you should pay attention to $CSPR ✅#CSPR #CasperNetwork pic.twitter.com/4fDPaQQwTU

— 𝐉𝐚𝐢 𝕩𝕣𝕡 𝕙𝕓𝕒𝕣 𝕔𝕤𝕡𝕣 𝕗𝕝𝕣🇸🇬 (@nanashemefan) January 14, 2023
Altcoins to Consider
Cryptocurrency markets have been performing well since the start of 2023, but the longer-term bear market remains very much still in play. Investors might still want to consider diversifying their holdings with the discounted presale tokens of some promising, up-and-coming crypto projects. Here is a list of a few that analysts at InsideBitcoins think have the potential to perform well.
FightOut (FGHT) – Presale on Now
The young move-to-earn crypto niche has shown a lot of promise, but early success stories like STEPN have significant limitations that have, so far, prevented them from conquering the mainstream. FightOut, which touts itself as the future of move-to-earn, wants to change that in 2023. FightOut is a brand new web3 fitness application and gym chain that rewards its users for working out, completing challenges and competing within a first-of-its-kind fitness metaverse.
While existing M2E applications such as STEPN only track steps and require expensive non-fungible token (NFT) buy-ins to take part, FightOut takes a more holistic approach to tracking and rewarding its users for their exercise and activity, and doesn't require any expensive buy-ins to take part. FightOut seeks to combine the physical and web3 worlds.
The project aims to eventually acquire gyms across all of the world's major cities, whilst simultaneously promoting an integrated web3 fitness experience. At the center of FightOut's digital ecosystem will be its smartphone application which, according to FightOut's whitepaper, is scheduled for launch in Q2 2023.
The FightOut app will harness smartphone and wearable technology to measure and track physical performance. The app will have its own in-house tokenized economy, where users can earn rewards for completing M2E tasks, and can mint their own soul-bound token avatar, through which the user will be able to interact with the FightOut metaverse.
FGHT is the token that powers the FightOut metaverse ecosystem. Users will pay to enter competitions and leagues with FGHT, and winning will be paid out in FGHT.
FGHT can also be used in peer-to-peer fitness wagers. FightOut's FGHT tokens are currently selling for 60.06 per 1 USDT, and interested investors are encouraged to move fast to secure their tokens, with the pre-sale having already raised close to $3.0 million in just a few weeks. FGHT is the token that will power the FightOut crypto ecosystem.
Calvaria (RIA) – Pre-sale Nearly Over
RIA, the token that will power afterlife fantasy-themed NFT battle card game Calvaria, is also currently in presale. The play-to-earn (P2E) crypto gaming start-up has raised close to $3.0 million in just a few months since the launch of its pre-sale. Only around 12% of its tokens remain up for grabs.
Calvaria seeks to bring crypto gaming into the mainstream by tapping into a huge, existing market – the market for physical battle card games (think viral sensations of the past like Pokemon and Yu-Gi-Oh). And with the crypto gaming space expected to grow from $4.6 billion in size in 2022 to $65.7 billion in size by 2027, according to an analysis by Markets and Markets, there is plenty of room for massive growth. Calvaria is set to launch its headline fantasy-themed card game "Duels of Eternity" in Q2 2023.
C+Charge (CCHG) – Presale Now On
The carbon credit industry is projected to be worth $2.4 trillion by 2027. Democratizing access to accrue these benefits is going to massive business in the years ahead and this is something crypto start-up C+Charge hopes to achieve. C+Charge is currently building a blockchain-based Peer-to-Peer (P2P) payment system for EV charging stations that will allow the drivers of electric vehicles (EVs) to earn carbon credits.
C+Charge aims to boost the role of carbon credits as a key incentive for the adoption of EVs. At present, large manufacturers of EVs like Tesla earn millions from selling carbon credits to polluters. C+Charge wants to democratize the carbon credit market by allowing more of these rewards to find themselves in the hands of the EV owners, rather than just the big businesses.
C+Charge has just started its pre-sale of the CCHG token that its platform will use to pay at EV charging stations. Tokens are currently selling for $0.013 each, though by the end of the presale, this will have risen by 80%. Investors interested in getting in early on a promising environmentally friendly cryptocurrency project should move fast, with the project having already raised over $300,000 in just a few weeks since the presale launch.
Investors should note that the remaining tokens could be scooped up quickly. A crypto whale recently scooped up over $99 worth of CCHG in one transaction, as can be verified here on BscScan.