Bictoin SV (BSV) is showing potential as it approaches $46, which raises speculation about a possible breakout. Analysts are watching closely to see if the price keeps going up. It could hit an all-time high if it does. Investors are also eagerly awaiting the results.
BSV Price Update: Promising Growth with 6% Increase in 24 Hours
Bitcoin SV (BSV) has a current price of $43.08 and a total market cap of $830 million, putting it in 48th place on CoinMarketCap with a circulating supply of 19,266,077 BSV.
Over the past seven days, BSV has grown 15.46%, with a 6% increase in the last 24 hours. Investing in BSV has seen a positive return.
The price of BSV has surged 42.3% over the past 30 days, jumping $13.95 from its previous value of $30.34, pushing the market capitalization even higher. A bear market might be a good time to invest in BSV.
Will It Break $46 Through Today? 
Bitcoin SV (BSV) approaches $46 with anticipation. Today, traders are watching to see if BSV can break through this resistant level, which could signal more bullish momentum. In the meantime, market participants are eagerly awaiting the next move.
BSV, currently at $43.08 on the 4-hour moving average, has some interesting price dynamics. A short-term resistant is $44.70, and a stronger resistant is  $46. BSV could reach $47 or even $48.5 if it can overcome these barriers. Furthermore, sustained positive momentum could push BSV towards the $49.36 resistant zone.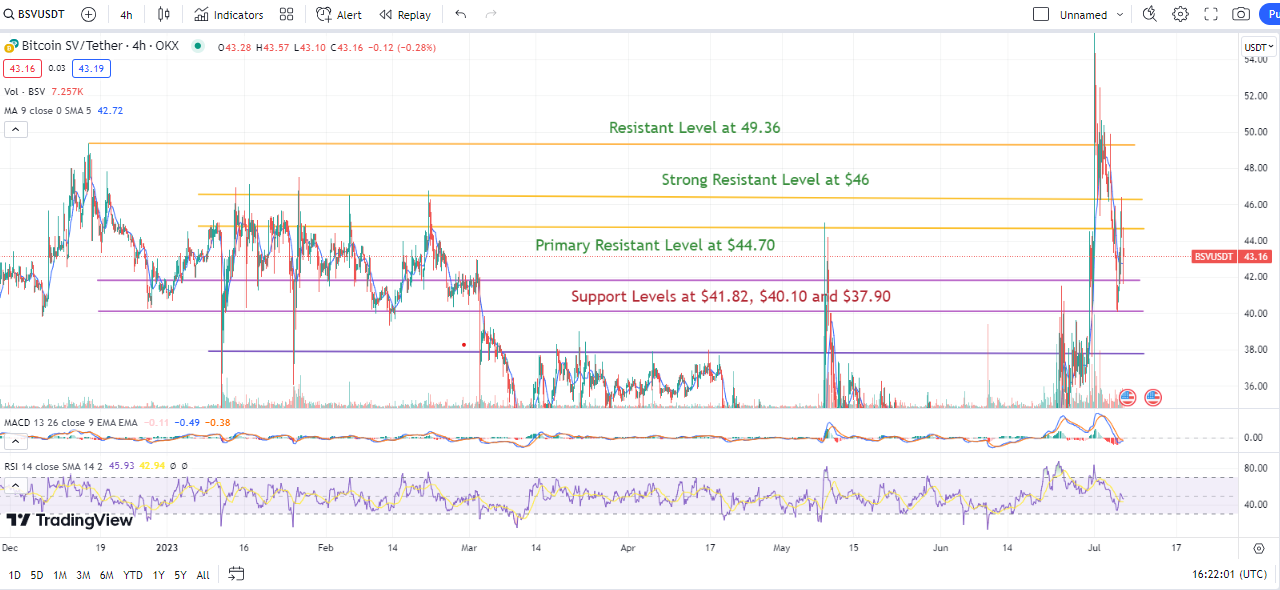 A failure to surpass $44.70 could lead to a price drop. The first level of support to watch is around $41.82. Additionally, BSV is currently establishing a substantial support level at $40.10. However, if this support level is breached, a further decline is possible, potentially reaching $37.90, the lowest price since June 30th.
If the price keeps dropping, that might mean investors aren't interested in BSV or that the market is bearish on it. So keep an eye on the price action and adjust your strategies accordingly. Cryptocurrency investing comes with inherent risks, so take precautions. Here is our guide to investing in the best meme coins.
Resurrecting Bitcoin's Vision: The Rise of Bitcoin SV (BSV)
The Bitcoin SV (BSV) hard fork sprouted from the Bitcoin Cash (BCH) blockchain in 2018. Bringing Bitcoin back to its former glory by reviving Satoshi Nakamoto's original vision. 
Keeping true to Bitcoin's roots as a peer-to-peer electronic cash system, BSV aims for scalability and stability. By lifting artificial block size limits, BSV can process a staggering number of transactions per second with minimal fees. 
As a blockchain powerhouse, it powers advanced features like tokens, smart contracts, and data applications, while staying true to Bitcoin's soul. 
BSV: Scaling Bitcoin's Vision for Real-World Use
BSV stays true to Satoshi Nakamoto's vision and the original Bitcoin protocol. A scalable blockchain platform for efficient payments and distributed data applications, BSV isn't like Bitcoin (BTC), which has become more of an investment asset. 
Due to its unbounded block size, BSV can handle market demands and accommodate any application or payment network without relying on second-layer solutions. It can handle up to 100,000 transactions per second, which could surpass traditional payment processors like Visa.
In addition to its scalability, BSV offers a stable and low-cost environment for blockchain developers. It also offers a reliable platform for experimenting with and implementing blockchain technology for enterprises and government agencies.
BSV: Secure and Immutable Blockchain through Proof-of-Work Consensus
In the same way as Bitcoin, BSV uses a proof-of-work consensus mechanism to secure its blockchain. The first one to solve a complex math problem earns rewards and adds a new block to the chain.
Adding a block makes it really hard to modify the transactions stored on the blockchain, since other nodes have to confirm and agree with it. BSV's blockchain is secure and trustworthy because of this. See our guide to the best altcoins to buy now here.
Alternative to BSV
Thug Life ($THUG) exploded onto the scene on June 28, raising an impressive $506k in presale. Aiming to surpass popular memecoins like Pepe and Dogecoin, Thug Life aims to reach $2 million and go viral. A cryptocurrency market that embraces humor, amusement, and trolling,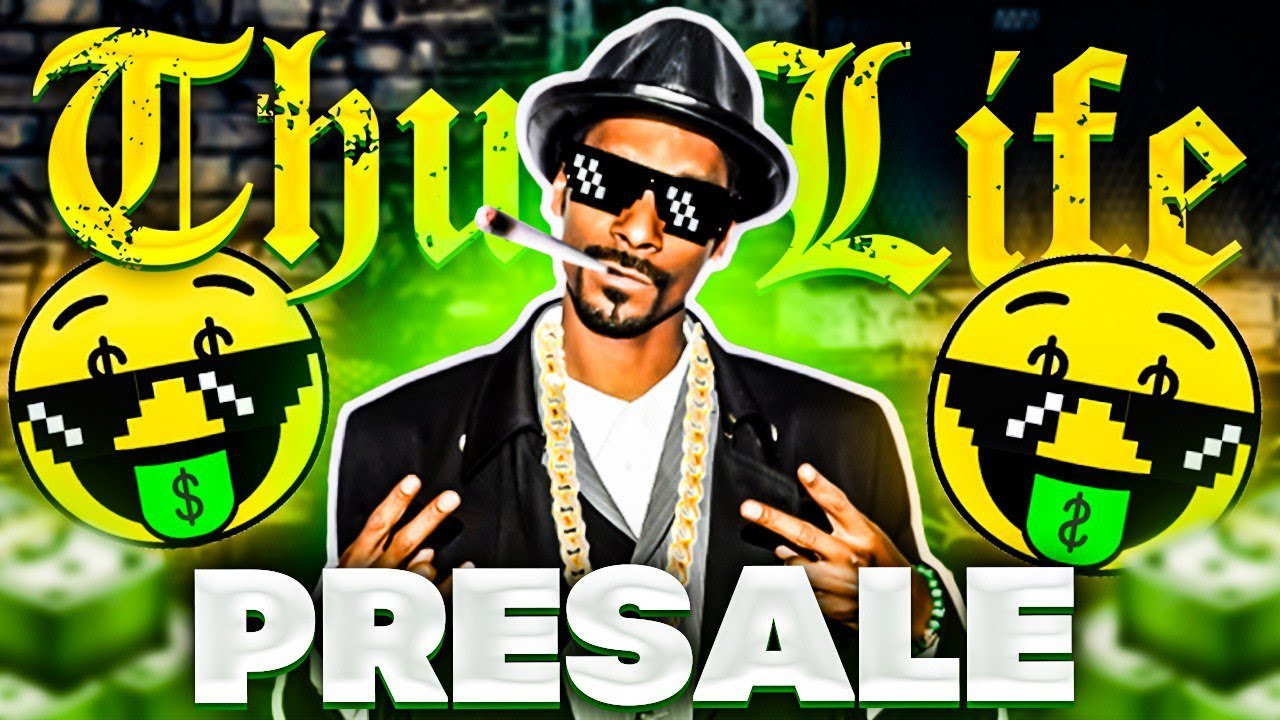 Thug Life embraces beloved memes and iconic characters like Dogecoin and Pepe the Frog. Thug Life aims to replicate DOGE's success by fostering a strong community of supporters despite initial skepticism.
The Thug Life: Resilience and Profits in Crypto
Thug Life makes a bold statement with its unique imagery that features prominent figures like Snoop Dogg, and it gained more attention by sharing one of his iconic songs. 
While Elon Musk has his own unique style, he might find inspiration in $THUG's resilience, humor, and lighthearted teasing. 
Discover the best altcoins with our informative guide. Don't underestimate Thug Life, as the joke currency followed in the footsteps of Dogecoin, which brought significant returns.
Thug Life offers you a chance to turn losses into gains, even if you've had bad investments in the past. Profits can still be made even at peak prices influenced by others.
Thug Life Token: Embracing the Web3 Spirit with Presale Perks 
In the Web3 world, Thug Life Token embodies the spirit of determination, humor, and community.
The presale will offer 70% of the token supply at a fixed price of $0.007, so price fluctuations are eliminated during the presale.
If the token maintains its presale price of $0.007, 15% of the supply will be allocated to community rewards upon listing on decentralized exchanges (DEXs).
As part of the strategic marketing effort, the remaining 15% of tokens will be used to boost $THUG's price.
Thug Life Tokens: Riding the Meme Wave to Potential Profits
Due to the well-known "Thug Life" meme, Thug Life Tokens have gained much attention. There's plenty of room for growth with a pre-sale price of $0.0007 and a market cap of under $2 million.
If the token's market cap exceeds $60 million, investors can make more than 50 times their original investment. The Thug Life Tokens can be traded on the Ethereum network for ETH and USDT.
Take advantage of the excitement and potential profit of the Thug Life token. Start generating income now and join the thriving $THUG community.
Make your financial journey a revolution with Thug Life Tokens. With Thug Life, you can experience the future of digital assets.
Wall Street Memes – Next Big Crypto
Early Access Presale Live Now
Established Community of Stocks & Crypto Traders
Featured on BeInCrypto, Bitcoinist, Yahoo Finance
Rated Best Crypto to Buy Now In Meme Coin Sector
Team Behind OpenSea NFT Collection – Wall St Bulls
Tweets Replied to by Elon Musk