After a delay, the long-awaited BLUR token airdrop is now available for redemption and has become the week's greatest trend in cryptocurrency. Blur has become one of the most talked-about tokens in the NFT industry after rewarding its NFT traders with a brand-new token airdrop.
Find the full details of Blur NFT airdrop and list of the best crypto to buy now in the video above, follow his YouTube channel for more crypto updates.
What is Blur
Blur (BLUR) is a decentralized NFT marketplace that enables speedy trading experience. Their objective is to advance the NFT space toward institutionalization while simultaneously increasing decentralization.
A team of developers from Square, MIT, Brex, Five Rings, and Y Combinator develops Blur. In addition, they have raised over $14 million from world-class investors and traders, such as Paradigm, 6529, Cozomo Medici, dhof, Bharat Krymo, Zeneca, OSF, MoonOverlord, icebergy, Deeze, Andy8052, and Keyboard Monkey, and many others.
The BLUR coin is exclusive to the Blur NFT marketplace. It will serve as the NFT marketplace's governance token, paving the way for the platform's eventual decentralization. Blur is also taking a novel approach to the royalties challenge by rewarding platform users who advocate for creator royalties with a larger quantity of the token.
About BLUR Airdrop
Before BLUR token launch, there are 3 Airdrop rounds:
Airdrop 1 was for everyone who traded in the 6 months prior to the launch of the Blur marketplace.
Airdrop 2 was for traders who actively listed on Blur through November.
Airdrop 3 is for traders who place bids on Blur and will be the largest Blur airdrop (around 1-2x the size of Airdrop 2).
If a collection did volume on BLUR (& other marketplaces), its creators are also qualified for Genesis Airdrop.
Blur Care Packages
Blur debuted its marketplace in October of last year, promising token rewards for traders, and has already distributed "care packages" to traders in anticipation of future token allocations.
On February 14, 2023, the NFT marketplace formally started allowing users to collect care packages for the token after delaying the debut of the platform's native token in January.
$BLUR is now LIVE

All traders across all marketplaces in the last 3 months, Care Package holders, and Creators are eligible for the airdrop.

You have 60 days to claim your BLUR ⏰ pic.twitter.com/AZynnHeIhz

— Blur (@blur_io) February 14, 2023
There has been a lot of expectation leading up to the launch, with Blur's trading volume increasing in the past month solidifying its position as one of the top ten NFT marketplaces in existence and popular exchange Coinbase tweeted that it would list the token if liquidity standards are reached.
Blur Price Prediction
Along with other centralized platforms like Coinbase and OKX, the cryptocurrency is also available on Uniswap, a decentralized exchange. In the first few hours, the $5.00 initial launch price dropped.
As of today, February 15, the BLUR token price is now going upwards at $1.11 and is slowly climbing from the lows, nevertheless, this could easily return at $1-$2 in anytime soon.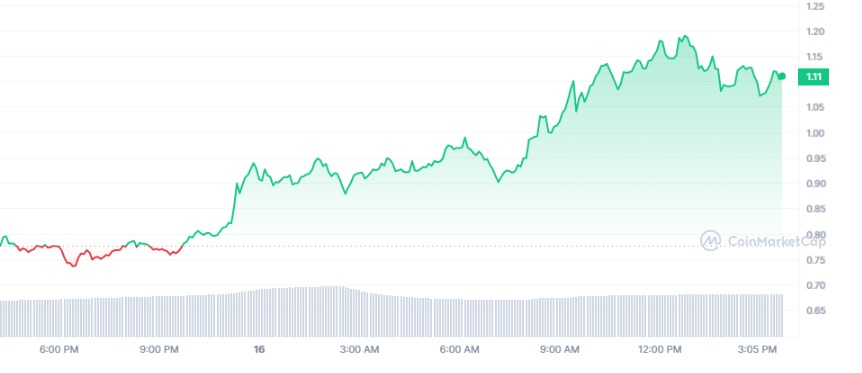 However, the following top projects that are currently dominating the market have the potential to surpass BLUR success in the upcoming months.
C+Charge
Climate change has caused excessive heat, environmental concerns, a collapsing atmosphere, rising ocean levels, and other issues worldwide. New coin initiatives have developed climate-change solutions and user-friendly rewards.
C+Charge is on our list because it wants to change the electric vehicle (EV) industry by offering everyone carbon credits. C+Charge is developing a powerful peer-to-peer (P2P) payment mechanism to transform EV charging and aid automobile owners.
C+Charge's solution is to construct charging stations and partner with current businesses and networks, allowing customers to pay with the native CCHG token and easily find local charging stations. CCHG's third presale stage raised almost $1.1 million. Stage four will raise the token's price from $0.016 to $0.017.
Invest in CCHG at c-charge.io.
RobotEra
RobotEra is a Minecraft-like metaverse games. This crypto project manages, discovers, and interacts with entertainment content in a metaverse. This revolutionary proposal mixes non-fungible tokens with virtual and augmented reality to let people learn virtual communities and economies while owning and selling a piece.
RobotEra's new interface is easy for everyone. They seek a seamless Play-to-Earn metaverse game. Grow sacred trees, sell NFTs, advertise, stake tokens, mine, explore, build, and fight on Taro to generate money.
The TARO token, which powers RobotEra, has raised $881k in stage one of its presale and is presently priced at $0.020. In stage two, it will increase to $0.025.
Invest in TARO at robotera.io.
Meta Masters Guild
Meta Masters Guild, the first mobile-focused Web3 gaming guild, began its presale running on ERC20. Meta Masters Guild, a Web3 gaming guild, creates Play-and-Earn mobile games for their members. Their community may invest, earn, and swap tokens in fascinating games with tradable non-fungible tokens.
Meta Kart Racers, the most advanced of three platform games, will release in mid of 2023. The second, off-chain token GEMS, which may be used to buy and sell in-game assets held by players as NFT and tradeable, will be given to users in instead of MEMAG.
The successful MEMAG presale, which has so far garnered $4.6 million, is now in its final stages. In less than 48 hours, investors can buy tokens for just $0.023 each. Exchange listings have not been made public due to the MEMAG token presale selling more quickly than anticipated.
Invest in MEMAG at memag.io.
Related
Meta Masters Guild – Play and Earn Crypto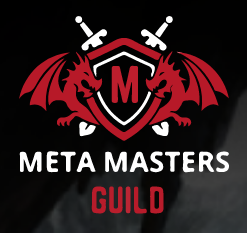 Innovative P2E NFT Games Library Launching in 2023
Free to Play – No Barrier to Entry
Putting the Fun Back Into Blockchain Games
Rewards, Staking, In-Game NFTs
Real-World Community of Gamers & Traders
Round One of Token Sale Live Now – memag.io