Bitcoin (BTC) price surprised the market participants yesterday, July 6th, by surging past the resistance at $31.2k, which held it from rising further up earlier this week.
However, after rising up to $31,383, the coin's price suddenly lost its momentum, resulting in a drop back to $30,000 before the end of the day.
The coin dropped below $30k, reaching a weekly low of $29,820, but it immediately recovered to $30,000 per BTC.
Over the past 12 hours, Bitcoin has been trading sideways, with very minor volatility. Its price, on average, sat at $30.11k, which is where it also finds itself at the time of writing.
In an attempt to predict the coin's further movement, some analysts believe that BTC will dip further into the $20k area again before bouncing back up and attempting another price surge.
Others have said that Bitcoin's drop was normal and healthy behavior, given its recent weekly and daily high. The rapid surge is typically not sustainable, natural price behavior, so a correction is to be expected as soon as the price loses its momentum.
Some believe that the retracement could trigger a mini alt season. Others, however, expect the coin to return to the resistance at $30.8k after a brief period of stabilization.
Bitcoin at $30k or under this level is slightly underpriced, according to such claims, and while the trend is still bullish overall, the coin should soon see a recovery back to the mentioned resistance.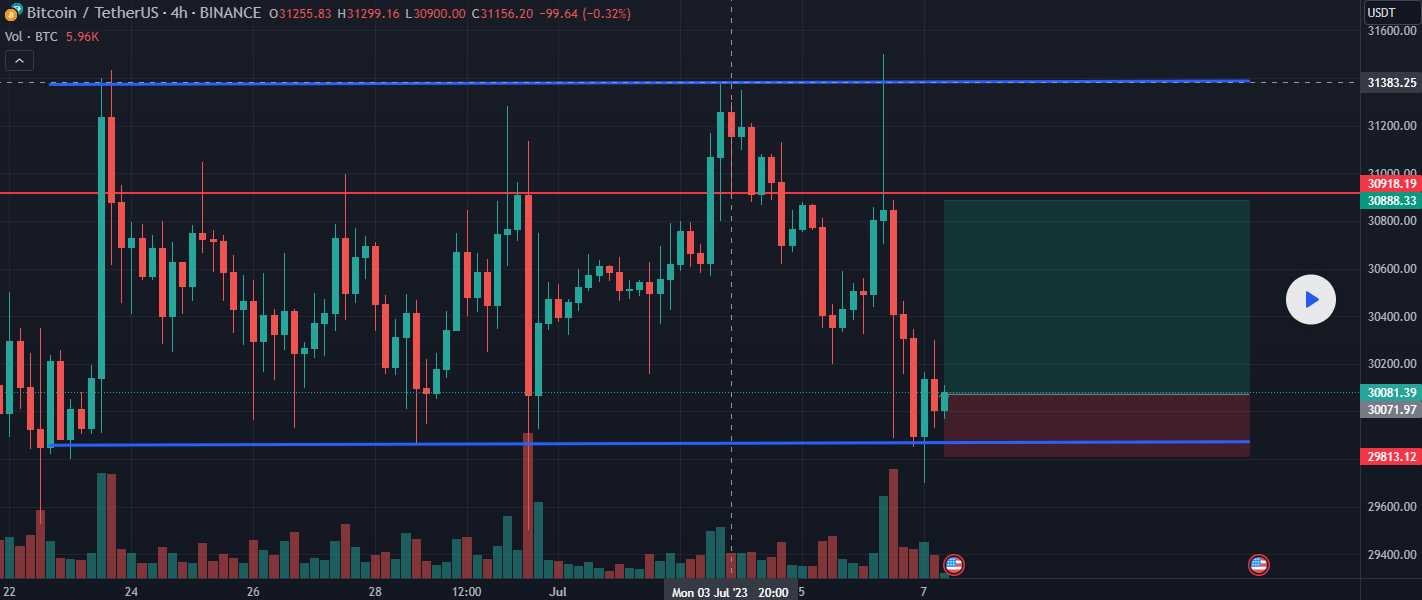 JPMorgan claims that ETF approval won't be a game changer for crypto
The crypto industry has been expecting a Bitcoin ETF for about a decade now, ever since the Winklevoss twins first filed for it ten years ago.
However, the regulator kept rejecting proposals on every occasion, always finding flaws in various filings. The most recent wave of ETFs started by BlackRock ended up being no different.
However, JPMorgan's recent statement claims that a Bitcoin spot ETF would not be a game changer for the crypto industry, even if it does get approved. In the past several weeks, mere speculations of the Bitcoin ETF were enough to strongly affect the market.
BTC skyrocketed after BlackRock first filed its application, only to see a sharp drop after the SEC rejected it. When BlackRock filed it again days later, the price started recovering again, leading BTC to a YTD and 1-year high.
Despite this, JPMorgan's research report claims that there are numerous reasons why this is deceptive and why BTC ETF would not do much for the crypto industry.
Analyst Nikolaos Panigirtzoglou noted that Spot Bitcoin ETFs have existed outside of the US for some time.
They are available to investors in Canada as well as in Europe. However, they failed to attract investor interest.
According to the report,
Bitcoin funds overall, including futures-based and physically-backed funds, have attracted little investor interest since Q2 2021, also failing to benefit from investor outflows from gold ETFs over the past year or so.
BlackRock reveals its goal to democratize crypto
BlackRock is known for being the world's largest asset manager, currently watching over $9 trillion in assets. The company seems determined to get the SEC to approve its Bitcoin ETF filing, and its CEO, Larry Fink, revealed why.
Fink, a former crypto skeptic, seemingly thoroughly changed his stance on cryptocurrency. In his recent interview.
BlackRock's founder and CEO said that Bitcoin can hedge against inflation, currency devaluation, and other financial issues. He believes that digital assets can revolutionize the financial industry, which is why BlackRock seeks to democratize crypto.
Bitcoin demand on the rise in the Philippines
In 14 and a half years of its existence, Bitcoin has reached every part of the world. However, it recently recorded high demand among Filipinos.
The country is known for its tech-savvy populace and its massive remittance sector. It seemingly developed a rather high interest in Bitcoin, according to ConsenSys.
The blockchain startup reported that Filipinos understand the concept of crypto and are showing great interest in buying the asset long-term.
Around 65% of questioned citizens of the Philippines have said that they are interested in investing in BTC.
This sudden interest in the asset could spark a new wave of demand for Bitcoin and help its price push through the current obstacles.
Launchpad XYZ presale continues to draw in investors
While interest in Bitcoin is on the rise, some believe that there are better opportunities in younger, newer assets. Launchpad XYZ (LPX) presale, for example, has generated a lot of attention. This is a Web3 project that provides users with the tools necessary to be successful in Web3 development.
It offers user-friendly and diverse tools, including insights, learning, trading, analytics, and strategy tools.
With Web3 being one of the major goals of the crypto industry right now, many have expressed interest in a project that can contribute to its development.
So far, Launchpad XYZ has raised over $1.12 million, and it currently sells its token at a price of $0.0445 per LPX.
Tokens are available in exchange for ETH, BNB, and USDT. However, they can also be purchased via credit and debit cards.
Once the current phase of the presale ends, LPX price will grow to $0.046, and growth will continue until it reaches its listing price of $0.0565.
Related
Wall Street Memes – Next Big Crypto
Early Access Presale Live Now
Established Community of Stocks & Crypto Traders
Featured on BeInCrypto, Bitcoinist, Yahoo Finance
Rated Best Crypto to Buy Now In Meme Coin Sector
Team Behind OpenSea NFT Collection – Wall St Bulls
Tweets Replied to by Elon Musk