Bitcoin Cash (BCH): Empowering Fast, Affordable, and Private Digital Transactions
Bitcoin Cash (BCH) is a digital currency that's fast, low-cost, and private. As an alternative to Bitcoin (BTC), it runs without a central authority.
Developers made changes to the Bitcoin code and released Bitcoin Cash. The original Bitcoin was split into two blockchains: Bitcoin and Bitcoin Cash. 
The split happened because of disagreements about scaling Bitcoin and implementing SegWit. In 2018, Bitcoin Cash split into two versions: Bitcoin ABC and Bitcoin SV.
The scaling debate revolved around two groups. Smaller block sizes prevent centralization and make it easier to host full nodes. Others wanted bigger blocks to speed up transactions and avoid high fees.
Bitcoin Cash Mining: Empowering Transactions and Enhancing Network Security
Bitcoin Cash mining confirms new transactions and adds them to the blockchain. Solving difficult puzzles with computers and electricity is what miners do. By solving a puzzle and getting their block of transactions accepted, they earn Bitcoin Cash.
The mining industry is competitive. Bitcoin Cash's price goes up, so more miners join. In turn, this makes the network more secure by increasing the total computing power used by miners. The system prevents one miner from getting too much control.
Bitcoin Cash (BCH) Price Surges: Investors Assess its Potential Compared to Bitcoin
The price of Bitcoin Cash (BCH) has gone up by a lot, around 60% in just one week. This has made people wonder if it could become even more valuable than Bitcoin.
Right now, the price of BCH is around $292.10, and it has already gone up a lot, around 80%, from a previous low point. This has made more people interested in its future price movement.
This prediction will look at the technical indicators and trends to understand what might happen to the price of Bitcoin Cash.
Bitcoin Cash (BCH) is currently priced at $292.10, with a total trading volume of $2 billion in the past day.
Although BCH has fallen by 6.69% in the last 24 hours, it has seen a significant increase of 60% in value over the past week.
BCH Statistics Data:
BCH price now – $290.81

BCH market cap – $6 Billion

BCH circulating supply – 19,436,913 BCH

BCH total supply – 19,436,913 BCH

BCH Coinmarketcap ranking – 14
Break Above $353.22: Continued Upward Movement for Bitcoin Cash (BCH)?
Bitcoin Cash (BCH) has surpassed $282.37, indicating a positive trend in its price.
A strong bullish candlestick pattern on the daily chart confirms that investors are buying BCH, pushing it to $353.22.
Here is our guide to investing in the best meme coin.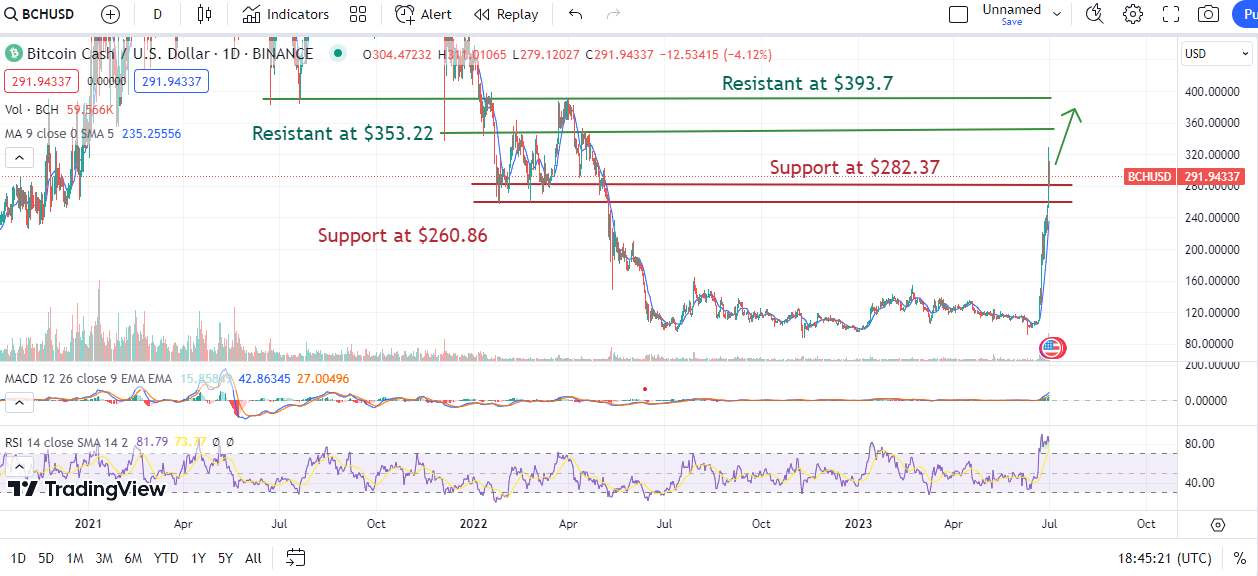 But if the price falls below $353.22, it could trigger a downward correction.
Prices might decrease slightly, leading to a retracement towards $282.37 or more at $260.86.
Moving Average Convergence Divergence (MACD) and Relative Strength Index (RSI) indicators on the daily chart suggest that the upward trend might slow down.
If the price drops below $353.22, sellers could profit by selling, targeting $260.86 and $208.96 as support levels.
On the other hand, if BCH breaks decisively above $353.22, it might keep going up, reaching $393.7. Traders can take advantage of this.
Ecoterra: Creating an Online Ecosystem for Recycling and Carbon Offset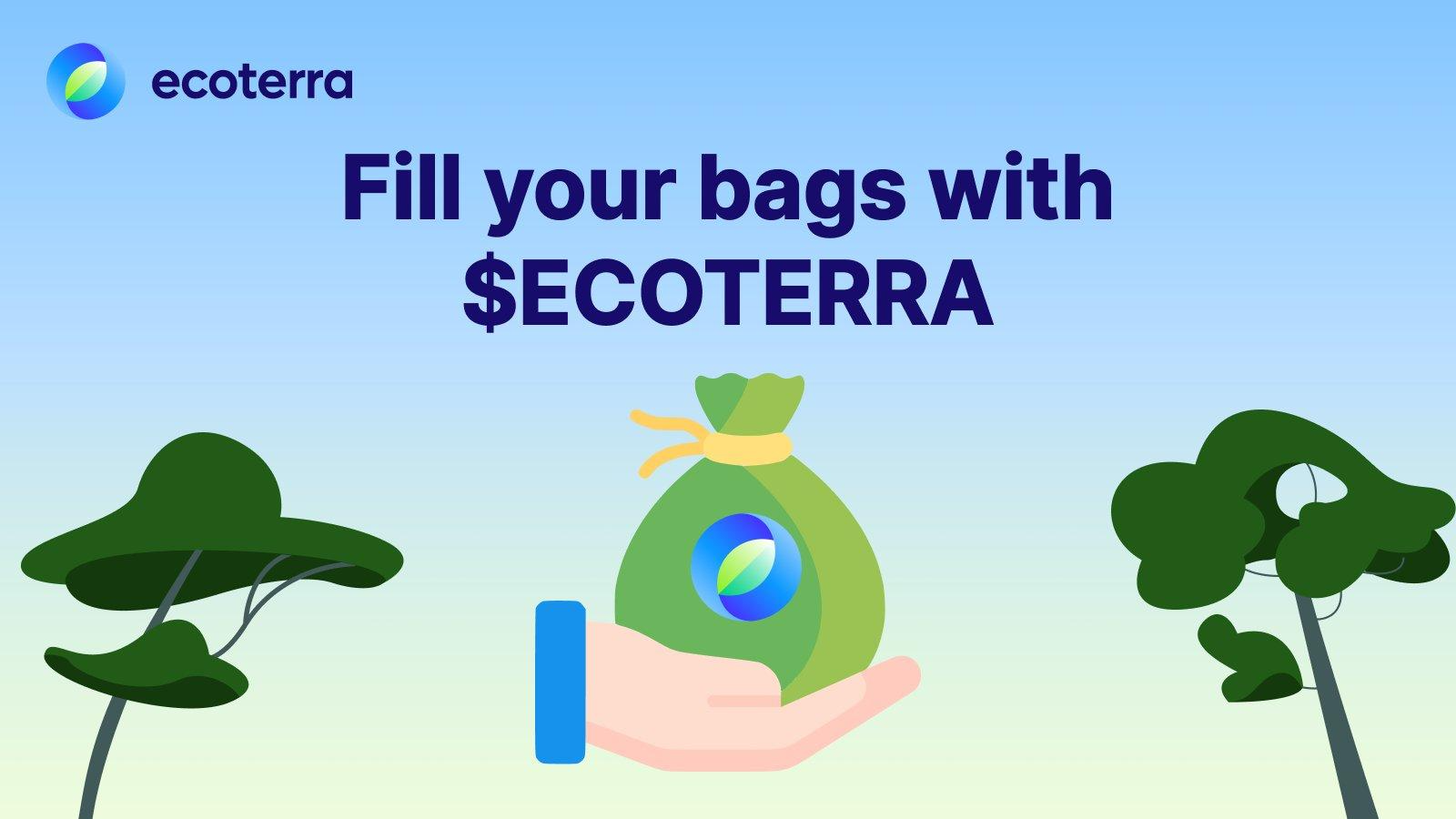 Ecoterra builds an online platform called Web3 that recycles, trades recycled materials, and reduces carbon footprints. Recycling and promoting a circular economy are their goals.
A marketplace where people can buy and sell recycled goods is part of the project. In addition, Ecoterra encourages individuals and businesses to reduce their carbon footprints by raising awareness and providing tools.
In the future, Ecoterra wants seamless recycling, trading, and carbon offsetting.
Over $5.742 million was raised during the presale of $ECOTERRA tokens, showing strong support for the project. The R2E demo is attracting more attention, boosting the presale's momentum.
With Ecoterra, a Web3 project, cryptocurrencies are being used to fight climate change.
Ecoterra's platform presale has been hugely successful, generating much interest.
Ecoterra's Goal: Building an Online Ecosystem for Recycling, Trading, and Carbon Offsetting
Ecoterra wants to build an online platform called Web3 where people can recycle, trade recycled materials, and offset their carbon footprints. Recycling and circular economies are top priorities.
Furthermore, they'll create a marketplace for buying and selling recycled goods, which will help the recycling industry grow. Ecoterra also aims to reduce carbon footprints and raise awareness about them.
Ecoterra sees recycling, trading, and carbon offsetting as seamless parts of Web3.
Pre-sales of $ECOTERRA tokens have raised over $5.742 million, showing strong support. More people will check out the R2E demo, so the momentum of the presale should increase.
Ecoterra, a Web3 project, aims to fight climate change by encouraging cryptocurrency adoption.
Pre-sales of Ecoterra's platform have gone really well.
The $ECOTERRA platform offers valuable perks and VIP access to real-life events
Staking $ECOTERRA tokens gives holders passive income.
The total token supply is two billion, with half going to presale investors. A total of 20% of the tokens are reserved for ecosystem liquidity, 10% for listings, 5% for corporate adoption, and 5% for the team.
Eco-experts consider $ECOTERRA a green Web3 project. By 2023, analysts predict its value will increase 100 times.
$ECOTERRA's value will increase 10x when it launches on cryptocurrency exchanges later this year. Its value will likely increase as more people use and adopt $ECOTERRA.
$ECOTERRA's revolutionary technology will revolutionize how people interact and transact. Early investors want to take advantage of its potential growth. In the coming months, $ECOTERRA will be one of the most sought-after cryptocurrencies.
Wall Street Memes – Next Big Crypto
Early Access Presale Live Now
Established Community of Stocks & Crypto Traders
Featured on BeInCrypto, Bitcoinist, Yahoo Finance
Rated Best Crypto to Buy Now In Meme Coin Sector
Team Behind OpenSea NFT Collection – Wall St Bulls
Tweets Replied to by Elon Musk