The cryptocurrency market recently crossed 1 Trillion in market cap, last seen in September 2022, and pulled most of the token with itself. Today, we'll selectively take a look at some of the biggest gainers along with a few crypto projects currently in their presale, believed to offer an exponential return in the future.
Biggest Crypto Gainers Today – January 24
1. STEPN (GMT)
STEPN (GMT) recently underwent a rally in the cryptocurrency market. The rally is unexpected due to the fact that many NFT-related projects have lost value and are not receiving fresh funding. However, STEPN has seen significant gains, increasing over 140% in value since the beginning of the market recovery.
The rally is attributed to the recovery of the NFT and DeFi industries, as well as the overall recovery of the cryptocurrency market, and the high volatility of the assets.
Technical indicators suggest that the token could potentially double its value in the coming weeks due to a breakout from a falling wedge, a bullish reversal pattern. However, it is uncertain how long the recovery rally will last and if the token will be able to break through the resistance level at $0.6-0.7. The STEPN project is part of play-to-earn gaming and could have caught the bullish drift, but it did not have any strong fundamental news to push the rally.
For those unaware, STEPN is a mobile game that utilizes non-fungible tokens (NFTs) on the Solana blockchain to reward players for walking, jogging, or running outdoors. The game was created by Australian fintech firm Satoshi Lab and aims to inspire healthier lifestyles and promote carbon neutrality.
Players must sign up for the game and connect their wallets to purchase NFT sneakers, which have various attributes such as resilience, efficiency, and comfort, and have a limited energy cap.
The STEPN ecosystem has two tokens: the Green Satoshi token (GST) and the Green Metaverse Token (GMT) which is the governance token with a limited supply of 6 billion. Users can earn GST tokens and buy, sell, or lease NFT sneakers on the marketplace.
2. Lido DAO (LDO)
Lido project is a decentralized staking protocol that aims to improve liquidity across the crypto market by issuing derivative tokens that traders can stake on decentralized finance (DeFi) protocols such as Yearn, Curve, and Maker.
The Lido DAO (Decentralized Autonomous Organization) governs the platform and assigns voting rights to its offerings with its native token, LDO. The current price of Lido DAO is $2.65 and according to coinmarketcap.com, the price of the Lido DAO Token is expected to reach $2.92 by January 26, 2023, with a rise of 10% in three days. However, it's important to note that the crypto market is known for its volatility and unpredictability and so the price could act differently.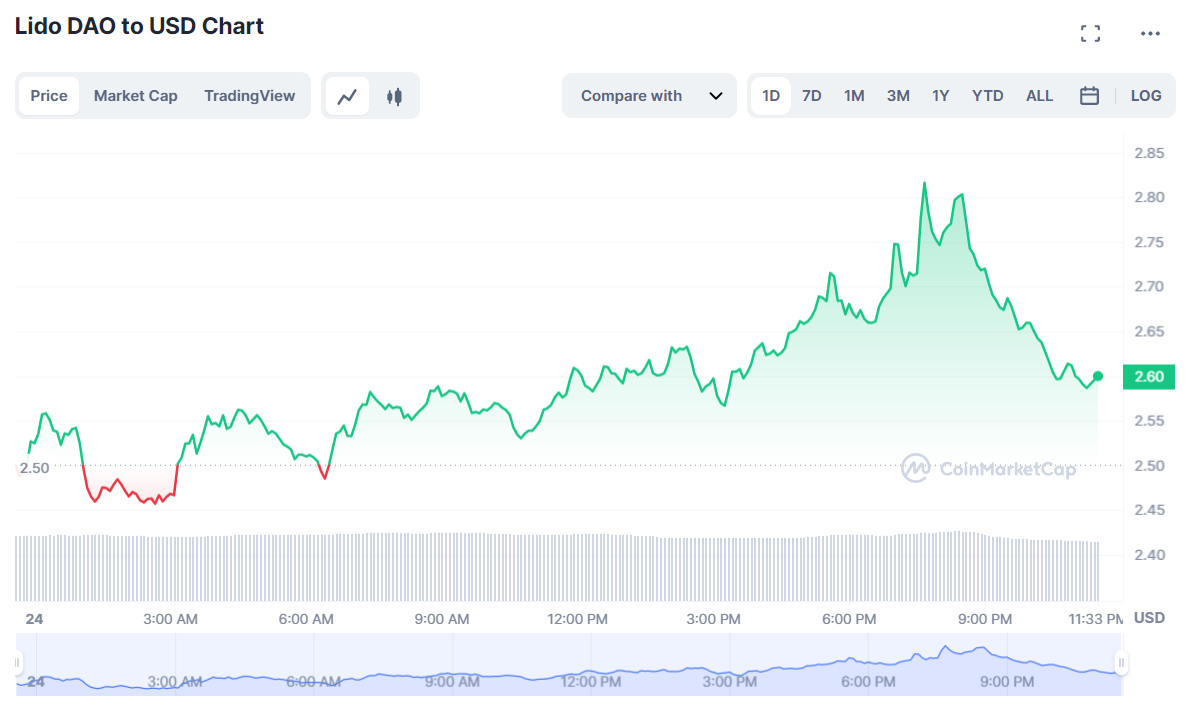 As far as fundamentals go, the success of the Lido project lies in its ability to allow users to earn liquid staking rewards for Ethereum 2.0 without having to maintain stake infrastructure. The Lido DAO has a track record of excellence and is made up of notable investors and members from the DeFi space, including Semantic VC, ParaFi Capital, Libertus Capital, and more.
With each LDO token representing one vote, users' influence and voting power are proportional to their stake in the network. Additionally, the Lido blockchain's governance structure is unique in that it can be adjusted and upgraded without affecting other adaptable protocols.
In terms of investment, the Lido protocol already has the most staked ETH tokens, but there is still room for growth. The Lido DAO's governance structure and its ability to change without affecting other platform features, make it a strong candidate for long-term investment.
3. Meta Masters Guild (MEMAG)
Meta Masters Guild, a play-to-earn crypto project, is currently undergoing a seven-stage presale of their token $MEMAG. The fundraising has a relatively modest goal of raising $4.97 million and aims to create the most sustainable play-to-earn crypto in the space.
The project hopes to surpass the early achievements of Axie Infinity by creating a model and platform that is aimed at long-term growth. The team is avoiding the short-termism of economic models that might attract speculators looking to make a quick buck, but who have no loyalty or buy-in with the games.
The first game, Meta Kart Racers, will be the key to achieving this goal. It will be free-to-play while incorporating a range of play-and-earn options and will be released on mobile platforms with a browser version as well. Players can use either Gems or MEMAG tokens to buy and upgrade their drivers and karts available in the Meta Masters Guild Store.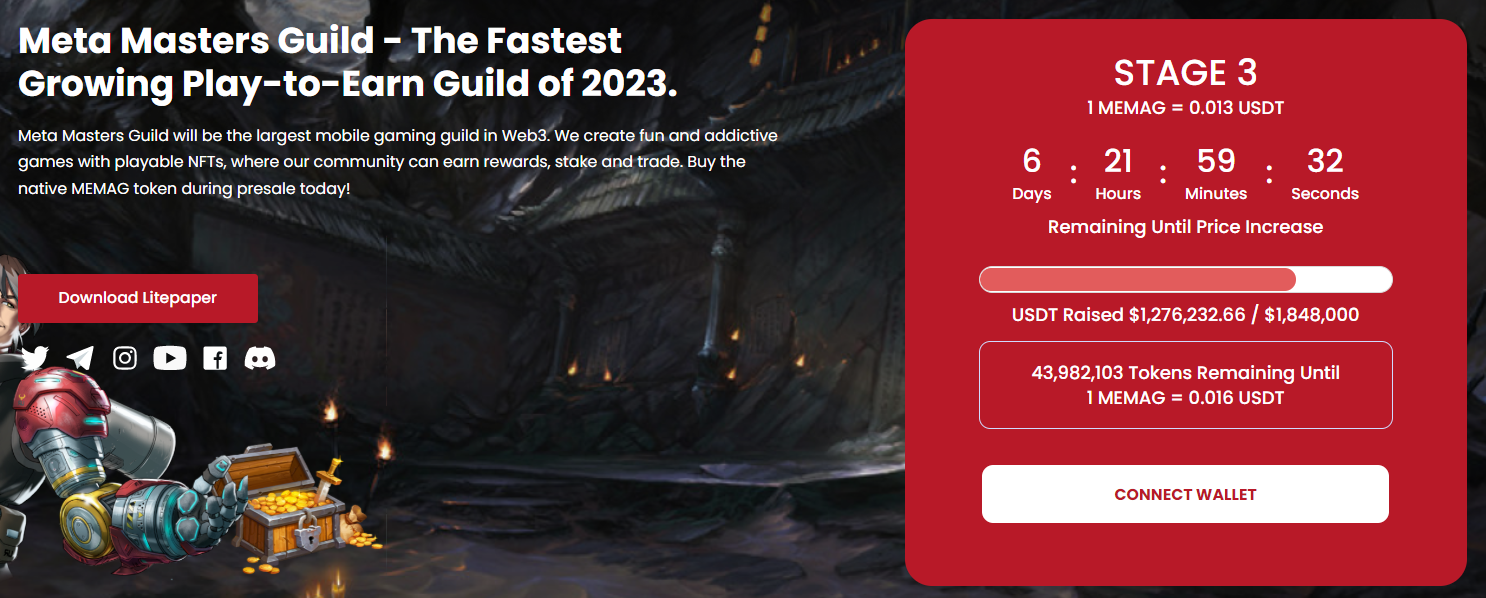 With a goal to become the world's biggest mobile-focused casual gaming crypto games platform, Meta Masters Guild has the potential to become this year's fastest-growing play-to-earn cryptocurrency with 10x potential.
Ideally, the Meta Kart Racers game could become one of the most played crypto games of 2023 and beyond, as it has a huge market potential in the racing games segment, which generated billions in 2022 alone.
Popular Crypto YouTuber Jacob Bury has posted a detailed video about the MEMAG project.
4. FightOut (FGHT)
Similar to the above MEMAG token, FightOut is launching a seven-stage presale of their token FGHT. The presale has already raised more than $3.35 million and is expected to increase in the final hours.
Investors who buy in stage 1 have the advantage of a lower token price, currently at $0.0166, and the opportunity to earn up to 50% in bonus tokens depending on the size of their purchase and the length of time they choose to lock their tokens.
The FightOut project aims to revolutionize the fitness world through its market-leading app, which takes into account movement, effort, sleep, and nutrition to build a digital fitness profile and provide tailored workout regimes to individual users.

Additionally, the app also incorporates a reward system where users can earn REPS, an off-chain token, by completing workouts at home or in a gym. These REPS can be used to pay for discounts on gym membership and app subscriptions, book personal training sessions, or purchase apparel, supplements, or equipment.
The project also plans to build and develop real-world gyms in key locations worldwide, equipped with the latest technology to provide a seamless and immersive experience to the users. A product with such real-world utility is likely to become a success as many investors believe.
5. C+Charge (CCHG)
C+Charge is a crypto-based platform that aims to revolutionize the payment system for electric vehicles (EVs) and provide incentives for eco-friendly EV owners. The platform will create a mobile app with a digital wallet that uses its native token CCHG to pay for EV charges at global charging stations.
By using CCHG tokens to pay for charges, drivers will earn carbon credits, which can be tokenized as NFTs and held or traded for cash. Additionally, C+Charge's tokenomics include a deflationary mechanism which removes transacted CCHG from the ecosystem, creating scarcity and increasing the value of remaining CCHG tokens.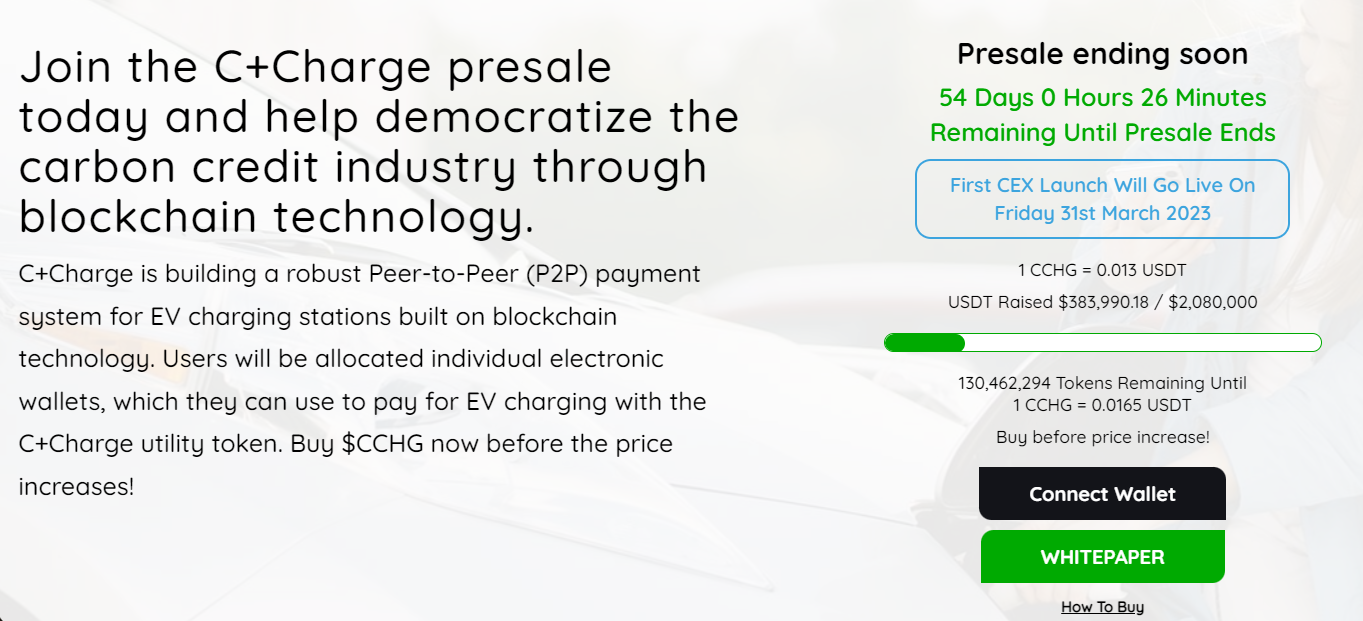 C+Charge also aims to build a P2P payment system that simplifies and reduces the cost of charging EVs, while also rewarding drivers with carbon credits for being environmentally friendly. The platform also aims to help businesses and landlords install charging stations on their properties, without charging non-EV drivers extra.
Presale for the token is currently live on their official website, where users can purchase one CCHG token for 0.013 USDT. So far, the presale has raised $380k and is expected to be live for 54 more days. Following that, the token will have its first CEX listing on March 31st.
6. RobotEra (TARO)
RobotEra is an innovative blockchain-based sandbox game that immerses players in a virtual world called Taro, where they take on the role of robots with human minds. The game utilizes NFTs to represent players' robots and virtual real estate and encourages players to work together to improve their land and earn rewards paid in TARO, the platform's native token.
The game also offers players multiple earning opportunities, such as renting out a virtual property, creating their own games, and participating in a variety of events. The platform's metaverse allows for socialization and customization by players and is built on the Ethereum blockchain.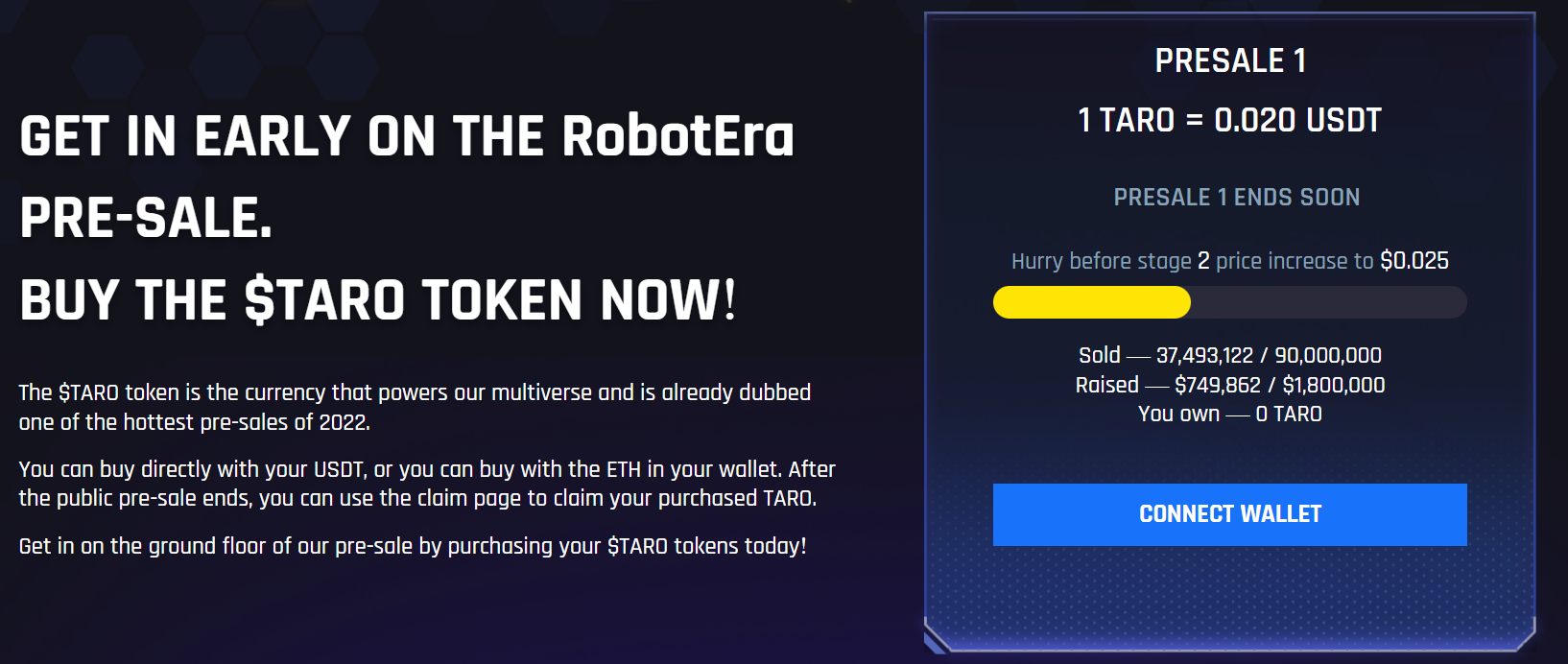 Additionally, RobotEra is unique because it allows players to enter its virtual world without coding or technical knowledge, making it accessible for players of all skill levels.
The presale of TARO tokens has been highly successful, with many experts praising the game as one of the most exciting sandbox-like blockchain games available. RobotEra has managed to successfully raise over $750k of its $1.8 million target.
Currently, in stage 1, the TARO token is available to purchase for 0.020 USDT however, it will increase to 0.025 USDT once the presale progresses to later presales. Arguably, this is the best time for investors to get their hands on TARO tokens.
Conclusion
Market gainers provide a great insight into what the market currently values and is interested in, while crypto presales remain one of the best ways to make outsized returns in the market. With that being said, every investment decision should be made through research and investors shouldn't rely only on suggestions to make a profit.
Read More-
Fight Out (FGHT) – Newest Move to Earn Project
CertiK audited & CoinSniper KYC Verified
Early Stage Presale Live Now
Earn Free Crypto & Meet Fitness Goals
LBank Labs Project
Partnered with Transak, Block Media
Staking Rewards & Bonuses