After pumping for well over two weeks, the crypto market found some stability recently and amidst this, there were still a bunch of tokens that managed to climb up the price ladder. In this article, we'll take a look at these coins along with several other tokens currently in their presale stage.
Biggest Crypto Gainers Today January 23
1. Ravencoin (RVN)
Ravencoin (RVN) is a software platform that incentivizes a network of computers to operate a system, enabling users to create a new class of crypto assets. These assets can include securities, collectibles, gold, event tickets, and even airline miles.
Ravencoin was launched in 2018 as an open-source fork of Bitcoin's codebase, with modifications to the code to add additional features for different goals. These changes include one-minute block times, a block reward of 5,000 RVN and a maximum supply of 21 billion RVN.
The network is secured through a variation of the Proof-of-Work (PoW) consensus mechanism called KAWPOW, which aims to lower the barrier to entry to mining on its network. Ravencoin also provides the ability for token creators to message holders of their tokens.
Ravencoin has recently reached a crucial point in its market performance, with its price currently up 13% at $0.029, over the week. This has led to speculation that investors may purchase RVN tokens, with the potential for the price to reach $1.00 in the future.
The Ravencoin price had previously struggled to achieve positive growth due to resistance from moving averages, but RVN bulls were able to break through this resistance. The overall outlook for Ravencoin's performance remains optimistic, supported by a buy signal from the Moving Average Convergence Divergence (MACD) indicator and an upward momentum indicator.
However, traders should exercise caution as there is a sell signal on the 4-hour chart indicating a weakening uptrend in the short term. The next confirmation for an uptrend would be an increase above $0.03. The transition to $1 will depend on the performance of the larger cryptocurrency market in 2023.
2. Frax Share (FXS)
Frax Share is a governance token of the Frax Protocol, which is an ecosystem that blends algorithmic technology and collateral. The goal of the platform is to create a decentralized algorithmic currency that can replace cryptocurrencies like BTC.
Frax Share is one of the tokens in Frax Protocol's ecosystem and is a fractional algorithmic stablecoin, and has both a collateral side & an algorithm-controlled side. The token can adjust its collateral ratio to the value of Frax Share.
Despite experiencing growth along with the overall bullish market, Frax Share fell by 90% from its all-time high of $41.09 in January 2022. However, the token has since recovered and has gained 17% over the past week.
The Frax Share token (FXS) is a non-stable, utility token that serves as the governance token in the protocol. It is meant to be volatile, but it holds rights to governance and all utility of the system. The FXS token holds potential for upside utility and downside utility of the system, where the delta changes in value are always stabilized away from the FRAX token itself.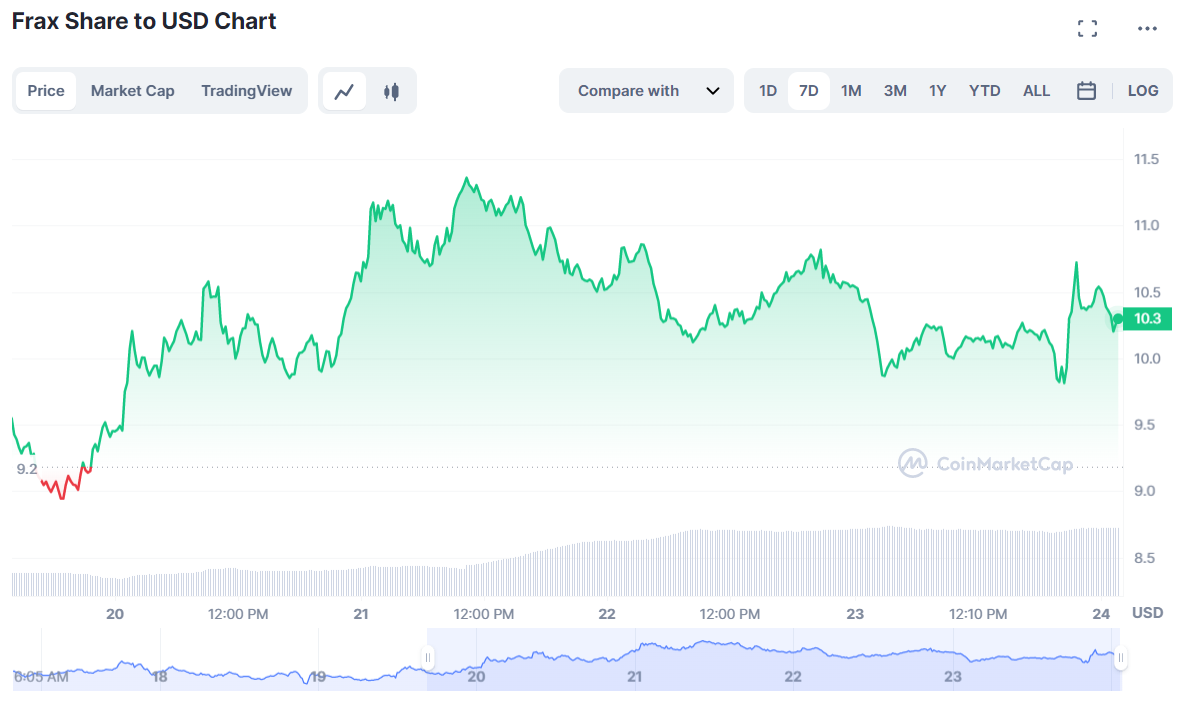 The FXS supply is initially set to 100 million tokens at genesis, but the amount in circulation will likely be deflationary as FRAX is minted at higher algorithmic ratios. The design of the protocol is such that the FXS token would be largely deflationary in supply as long as FRAX demand grows.
The FXS token's market capitalization is calculated as the future expected net value creation from the inflation tax of FRAX tokens in perpetuity, the cash flow from minting and redemption fees, and the utilization of unused collateral. Additionally, as the market cap of FXS increases, so does the system's ability to keep FRAX stable.
3. Meta Masters Guild (MEMAG)
Meta Masters Guild is a gaming platform building infrastructure to sponsor experienced gamers with scholarships that can be used to participate in play-to-earn games. The revenue generated from these games can then be used for a variety of different things within the ecosystem.
The community is excited about the potential of the project and has managed to raise over $1 million in the presale so far. The presale is being conducted in a series of different stages, meaning that those who contribute at the earliest stages are able to reap the best rewards and acquire tokens at the cheapest price.

The project is also building the world's first dedicated Web3 mobile gaming platform, which is expected to have a focus on fun over tokenization and earning mechanics. It already has three games in development and plans to invite indie studios and developers to join its ecosystem.
In addition, the project also emphasises creating an in-game currency that will relieve consistent selling pressure on MEMAG that has sunk other P2E tokens. Players will receive GEMS as rewards for their in-game achievements, which can also be used to purchase and upgrade assets and be converted back to MEMAG.
These approaches are expected to help the project attract a large number of players and investors who are looking for a fun and engaging gaming experience.
Popular Crypto YouTuber Jacob Bury has recently uploaded a video analyzing the MEMAG project.
4. FightOut (FGHT)
FightOut is a new crypto project that aims to create a global ecosystem that rewards users for moving; expanding on the move-to-earn (M2E) concept. The company plans to launch a mobile app that rewards users for various forms of exercise, including weightlifting, boxing, tennis, and Zumba.
The app will have a monthly subscription fee, rewards will be paid in REPS, which can be used to pay subscription fees and purchase merchandise. The company also plans to launch its own gyms and a metaverse, all accessible via the app.

FightOut has created FGHT, an economic token following the ERC-20 standard, which can be used to gain access to the FightOut ecosystem and the future metaverse. The FGHT token presale is currently in the first stage, with the cheapest price available at $0.0166 per token.
The presale has been selling out quickly, with the team raising $3.2m through FGHT token sales. The company has also onboarded high-profile brand ambassadors from the health and fitness industry to promote the project.
5. C+Charge (CCHG)
C+Charge is a new electric vehicle (EV) charging platform that aims to incentivize EV owners by providing them with carbon credits for charging their vehicles. The company plans to establish an EV charging payment system that offers users exceptional utility, privacy, value, and trust.
The company leverages blockchain technology to integrate carbon credits into the EV charging industry and aims to create a platform that rewards EV owners for charging their vehicles. The CCHG powering the ecosystem is built on Binance Smart Chain with a maximum supply of 1 billion tokens, 40% of which will be made available for public purchase.
The presale is currently ongoing, with buyers able to purchase tokens at a discounted price of 0.013 USDT. The project also plans to allocate 10% of the tokens for community staking, airdrops, and giveaways, and 5% for environmental and charitable initiatives.
Additionally, the platform has scheduled its first CEX launch this quarter on March 31, 2023. The company believes that with the rate at which it is gaining user traction, it has the potential to become one of the best altcoins of the year. C+Charge's innovative approach of rewarding users with carbon credits for charging their cars is expected to revolutionize the Electric Vehicle charging sector.
The platform also provides an easy-to-use mobile application which is a one-stop-shop for all EV owners' charging needs, from managing payments to tracking carbon credits, and also helps to locate the nearest charging stations. The company's vision is to create a sustainable ecosystem that encourages EV adoption and promotes environmental conservation.
6. RobotEra (TARO)
RobotEra is an innovative play-to-earn (P2E) cryptocurrency game considered one of the best metaverse projects in the market. The game is set in a metaverse galaxy where robots are the main characters, and players take on the role of robots as they explore the virtual planet Taro. The goal is to rebuild the planet and players earn rewards for doing so.
There are seven factions in the game, each with unique abilities, and players can explore other virtual planets and universes to upgrade their avatar robots.
The game features several activities such as managing farms, manufacturing robots, gathering materials from various planets, and completing quests in the Central City. Players can also access museums, amusement parks, performance venues, and more in this parallel reality.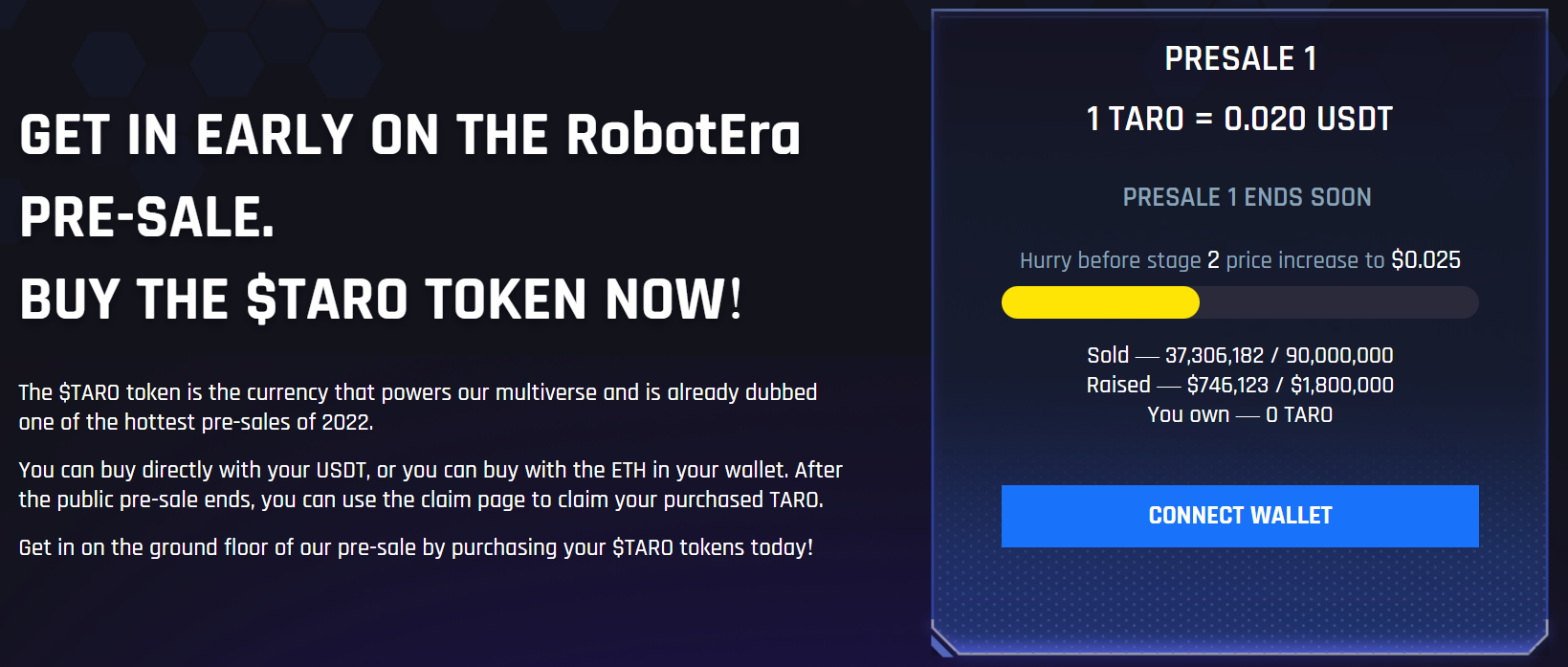 The native token of RobotEra, TARO, is currently on presale and is selling out quickly. The presale has raised $744k so far and the value of the TARO token is expected to increase in the future.
RobotEra provides players with the opportunity to have fun rebuilding the planet Taro and earn rewards through virtual land ownership and monetization. The game is a unique blend of entertainment and earning and is a great way to earn while having fun in a more than interesting way.
The presale of TARO tokens is a good opportunity to purchase them at a lower price, so it's a good idea to grab them while they're still cheap. With its unique features, RobotEra has the potential to become the best metaverse crypto in 2023.
Conclusion
Today, we covered the top-gaining coins of the day, which would make great candidates to add to your portfolio. If you're looking for outsized returns, we've also mentioned a bunch of projects currently in their presale that hold a ton of potential to become big in their respective niche. With that being said, always remember to conduct your own research before investing in any token.
Read More-
FightOut (FGHT) – Newest Move to Earn Project
CertiK audited & CoinSniper KYC Verified
Early Stage Presale Live Now
Earn Free Crypto & Meet Fitness Goals
LBank Labs Project
Partnered with Transak, Block Media
Staking Rewards & Bonuses