Many cryptocurrencies, like Aptos and Woo Network, were trading in green on January 11, 2023. Due to these gains, the total crypto market capitalization got increased by 0.67 percent and reached the figure of $854.55 billion. Given below, we have listed down the top cryptocurrencies whose prices have increased in the market today:
Biggest Crypto Gainers Today
1. Aptos (APT)
The layer-1 proof-of-stake (PoS) blockchain platform, Aptos, uses APTOS as its native token. Aptos Labs is the company that is building the Aptos blockchain network. This network employs the Move programming language, which Meta created in an effort to introduce the Libra blockchain and boost its scalability and security. The top priorities of Aptos are to ensure that Web3 technology is widely used and to establish a community of DApps for resolving difficulties in the real world.
These tokens have a fixed initial total supply of 1 billion. At the time of writing, the price of Aptos is $5.27. Though the crypto has a mixed run today on its price charts, however, it has been able to see a surge of 33.84% in the last seven days. This rise is attributed to PancakeSwap's decision to continue its multichain deployment on this platform. The all-time high price of this token is $10.25, and the token has a current circulating supply of 130 million.
2. Woo Network (WOO)
Woo Network provides DeFi liquidity to institutional platforms.  The network provides traders, exchanges, and DeFi platforms with equal access to top-notch liquidity, trading operations, and profit-making strategies at a low cost. Recently, the network has announced significant changes to its tokenomics, which has caused a surge in the price of its tokens. These changes include the burning of 705 million WOO tokens, which were earlier allocated to WOO Ventures, WOO DAO, and the project's insurance fund.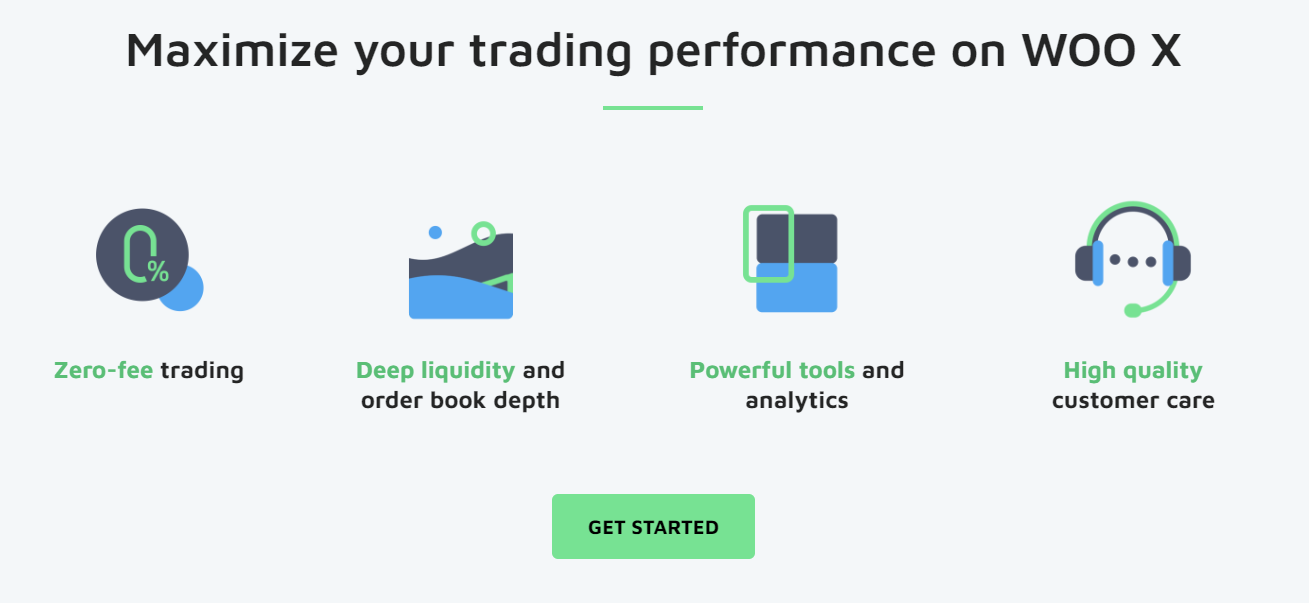 Tokens worth $127 million will be removed from circulation after these changes. 24% of the supply of WOO tokens will be burned during the scheduled burn. After the token burn, the Woo network would be in the process of launching initiatives to increase the utility of its token. Each WOO token currently costs $0.17. In the last seven days, the price of Woo Network has increased by 32.64%. On the previous day, the price has risen by 9.16%. The current circulating supply of this crypto is 1.6 billion WOO tokens.
3. Dash 2 Trade (D2T)
With its distinctive features, Dash 2 Trade, a freshly launched crypto analytics platform, empowers its users to make smart investing decisions. The platform enjoys a high degree of trust in the eyes of both investors and customers because Solid Proof and CoinSniper have audited its smart contract code and verified it for KYC purposes respectively. The D2T token, whose presale began in the latter half of 2022, is the platform's native token. At the time of writing, the presale of D2T tokens is concluded.

Through the assistance of its native token, D2T, the platform offers users access to a special collection of resources for information, trend analysis, and trading guidance. Users may keep a close eye on the whales' activity and capitalize on them with the help of its on-chain analytics. After raising more than $13 million from its presale, the D2T token will have its first CEX listing today on Gate.io.
4. Calvaria (RIA)
Calvaria: Duels of Eternity is the latest card game where players battle against one another with the help of cards, which have a distinct set of characters and features attached to them. The players compete to defeat their opponents through different strategies for getting rewards and upgrades. Players are allowed to own in-game resources by participating in various activities of the game. The native token of Calvaria is RIA, which serves as the main currency of this platform.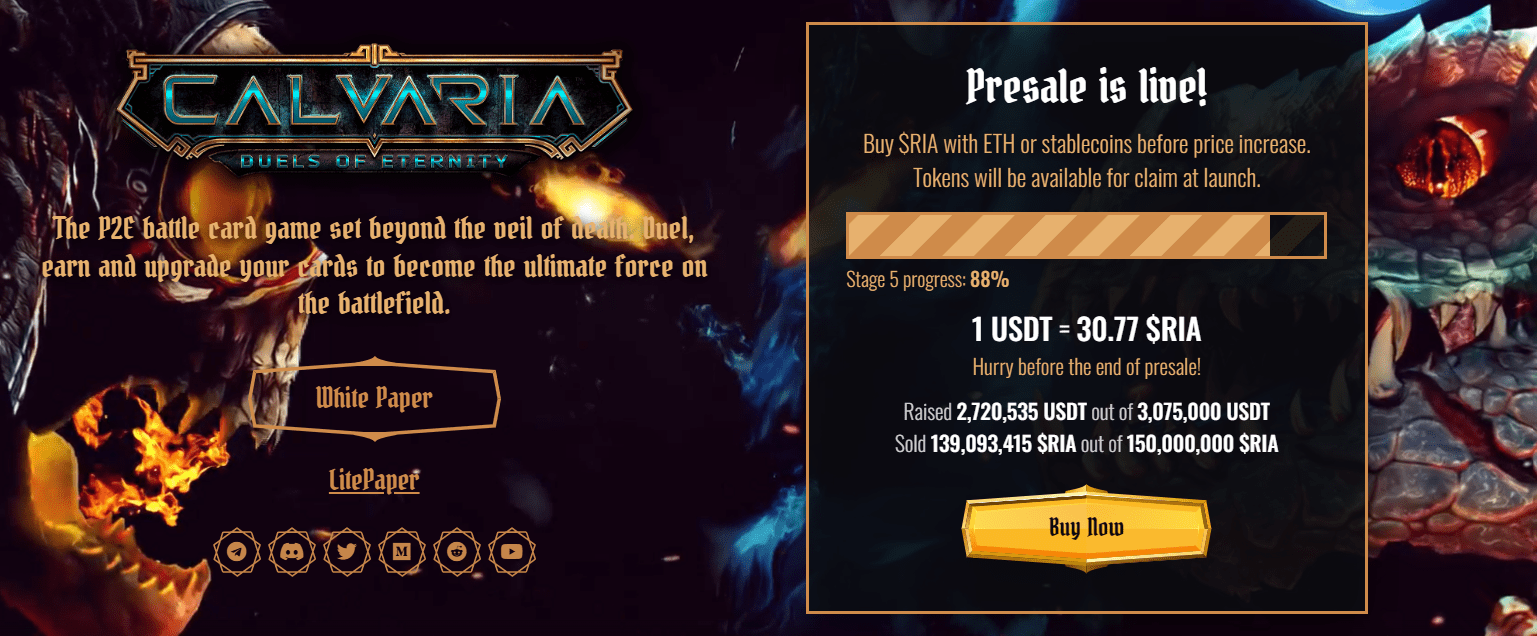 These ERC-20 tokens can easily be exchanged and traded on various platforms by their users. Playing this game can easily allow its users to get these unique tokens, whose value will rise over a period as more and more users start expressing interest in this game. Currently, RIA tokens are up for presale, where 1 USDT is priced at 30.77 $RIA. More than $2.7 million has already been collected from this presale, and it is expected that the presale will reach its target soon in the upcoming weeks.
5. FightOut (FGHT)
The presale of FGHT, the native token of FightOut, will soon conclude its first stage. The presale already sent shock waves across the crypto community when it raised more than $2.5 million within a week. These collections point out that FightOut is going to disrupt the fitness industry in a massive way. Going by its fast collection, it is expected that stage 1 will be finished within less than two weeks from now.

The price of the FGHT token in stage 1 is kept at 0.0166 USDT, which will subsequently increase as it is listed on any exchange. As of now, the token is planning to make its first CEX listing on April 05, where it would be sold for a price of 0.0333 USDT. Investors should think about getting FGHT tokens at a reduced price because the value of these tokens will increase after the listings. At the time of writing, more than $2.8 million has been raised from this presale.
6. RobotEra (TARO)
RobotEra has been at the top of many investors' and crypto enthusiasts' wish lists. It is a low-cap initiative that integrates the metaverse features and gives its users many revenue-generating opportunities. Crypto whales are confident that RobotEra will result in huge returns in the future. A total of 270 million TARO tokens will be available during the presale. The token is priced at a value of 0.020 USDT in its first stage of the presale.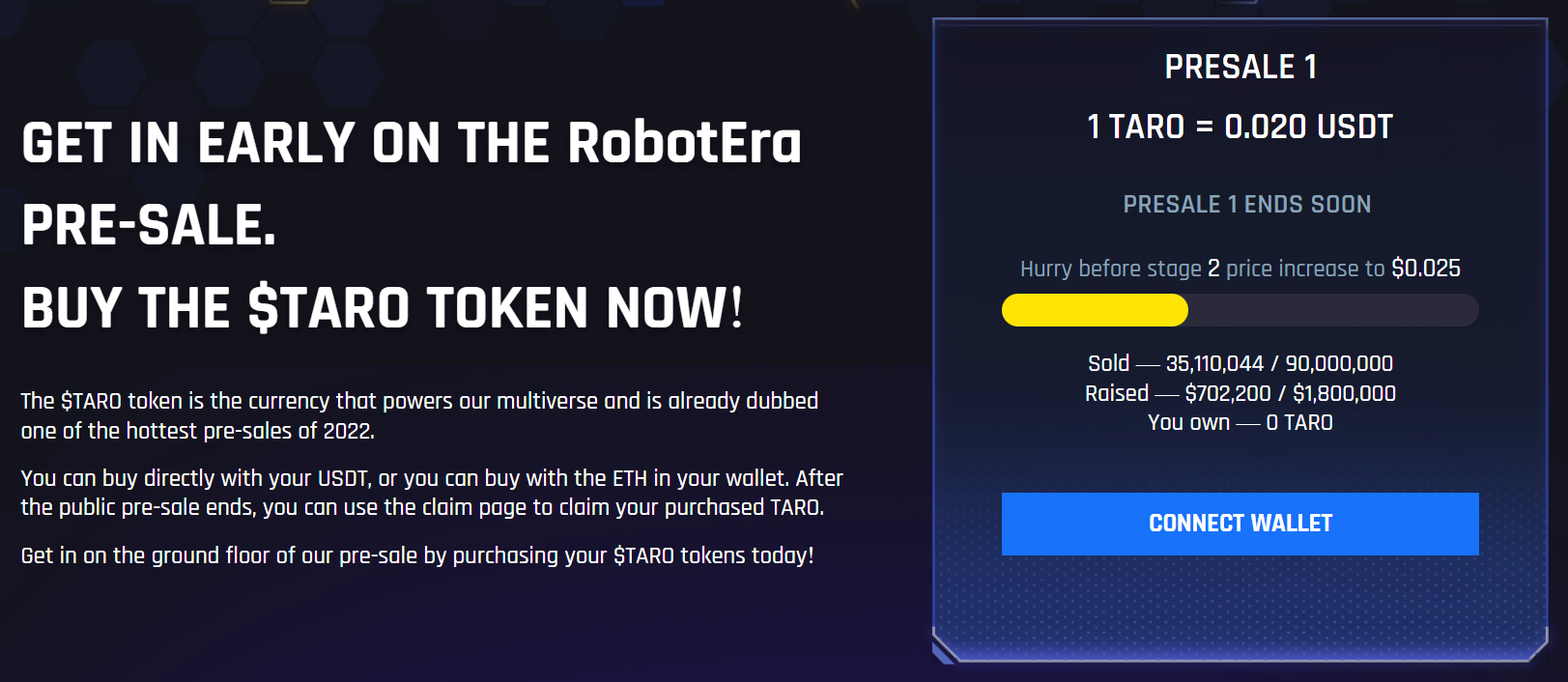 In the following stage, the tokens would be sold for a price of $0.025. In the first round of its presale, more than 35 million TARO tokens have already been bought, and about $700,000 has been collected. It is important to note that these tokens would be available in exchange for money at the marketplace of this network. Furthermore, RobotEra also offers a staking platform where users can stake their TARO tokens and generate passive income over the course of time.
Conclusion
Today's market is favorable for cryptocurrency traders. The price of cryptocurrencies, like WOO tokens, has increased significantly. However, considering the volatility of the cryptocurrency market, it is essential to conduct adequate research before making any investments. In the long term, this would guarantee a profitable investment portfolio.
Read More:
FightOut (FGHT) – Newest Move to Earn Project
CertiK audited & CoinSniper KYC Verified
Early Stage Presale Live Now
Earn Free Crypto & Meet Fitness Goals
LBank Labs Project
Partnered with Transak, Block Media
Staking Rewards & Bonuses