The crypto market on Saturday didn't show much momentum, with major coins barely making gains over 2%, and market leaders such as Bitcoin and Ethereum not deviating from their position by more than a percent. Amidst this, a bunch of other lesser-known tokens have grown quite well throughout the day, as well as performed quite incrementally over the week.
In this article, we'll take a look at the top gainers for the day, as well as mention some new additions to the crypto market, currently in their presale stage, that hold the potential to possibly lead the market in their respective niches.
Biggest Crypto Gainers Today February 4
1. GMX (GMX)
The GMX token has recently demonstrated bullish behavior and is continuing to show an upward trend in trading. It has surpassed the resistance level of $59.78, forming a bullish candle with substantial volume. At present, the GMX token is trading at $73.1, with a 2.49% increase in the last 24 hours, and has maintained a position above its crucial 50 and 200 exponential moving averages.
Analysts' views and expectations are that the token is trading in an uptrend and is expected to reach new highs in the coming days. The current sentiment is bullish with a Fear & Greed Index reading of 58 (Greed). According to the analysis, now is a good time to buy GMX. Since the token has surpassed a major resistance level of $70.
The GMX token is associated with Arbitrum, which is a layer-2 solution that proposes to reduce the network congestion on Ethereum as well as its high transaction fees. The GMX token skyrocketed over the last 24 hours, and thus, has been brought to investors' attention.
GMX is a decentralized cryptocurrency exchange that provides a platform for trading digital assets on the blockchain. The GMX token has multiple roles, including acting as a form of governance token, providing utility, and allowing users to earn a share of trading fees by staking.
In addition to being an essential component of the GMX protocol, the GMX token also serves as a means of accruing value for investors looking for a mainstream alternative cryptocurrency with more growth potential. Considering the recent upsurge in the price of GMX now would be a great time to buy in on the project.
2. Magic (MAGIC)
Treasure DAO (MAGIC) is a cutting-edge decentralized NFT ecosystem that operates on the innovative Arbitrum platform, serving as the hub for numerous metaverse projects. The Treasure ecosystem houses various metaverse games, each utilizing MAGIC as the currency for transactions.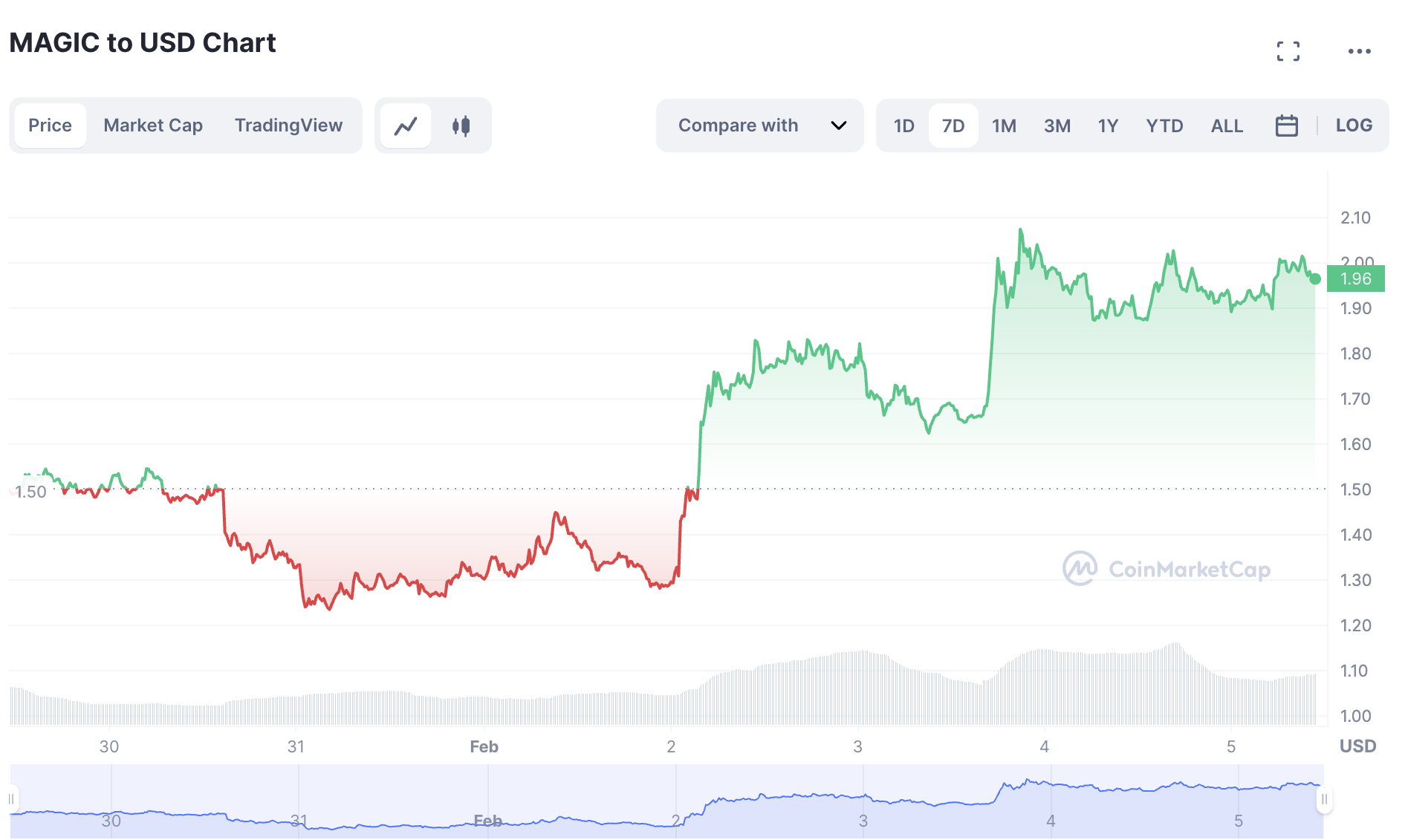 The concept of Treasure is similar to owning and playing games on your gaming console, with each game being a separate entity running on its own currency. However, Treasure takes this idea a step further by having every project in the ecosystem use MAGIC as their currency, bringing the entire metaverse under the Treasure umbrella.
MAGIC is the driving force behind the Treasure metaverse, powering NFTs and transforming them from virtual assets into productive, yield-generating assets. The scarcity of MAGIC increases as the economy grows more complex, resulting in the creation of a vast network of narrative connections within the metaverse. Players can acquire MAGIC through playing games, mining, and participating in Bridgeworld, and the Treasure ecosystem is governed by MAGIC holders.
The tokenomics of MAGIC were created with long-term sustainability in mind, with high inflation in the early stages. Future emissions of MAGIC will be distributed at a decreasing rate, similar to Bitcoin's halving but happening every year instead of every four years. T
The central metaverse in Treasure is Bridgeworld, where everything is connected. In Bridgeworld, there are three essential elements: MAGIC as the power source, Treasure as the resources, and Legion as the users. In this metaverse, Legions use Treasures to mine for MAGIC, which they then use to create equipment and infrastructure, forming a cycle that keeps the ecosystem running.
As time goes on, MAGIC is expected to become increasingly valuable as it is utilized for both currency and equipment manufacturing. If you're interested in getting a head start in Treasure, it's recommended to begin as soon as possible.
3. Meta Masters Guild (MEMAG)
The Meta Masters Guild presale is continuing to experience significant growth, with the total amount that has been raised till now over $2.8 million. This quick progress can be attributed to the increasing demand for play-to-earn gaming in the cryptocurrency ecosystem, with Meta Masters Guild poised to capitalize on this trend with its innovative approach.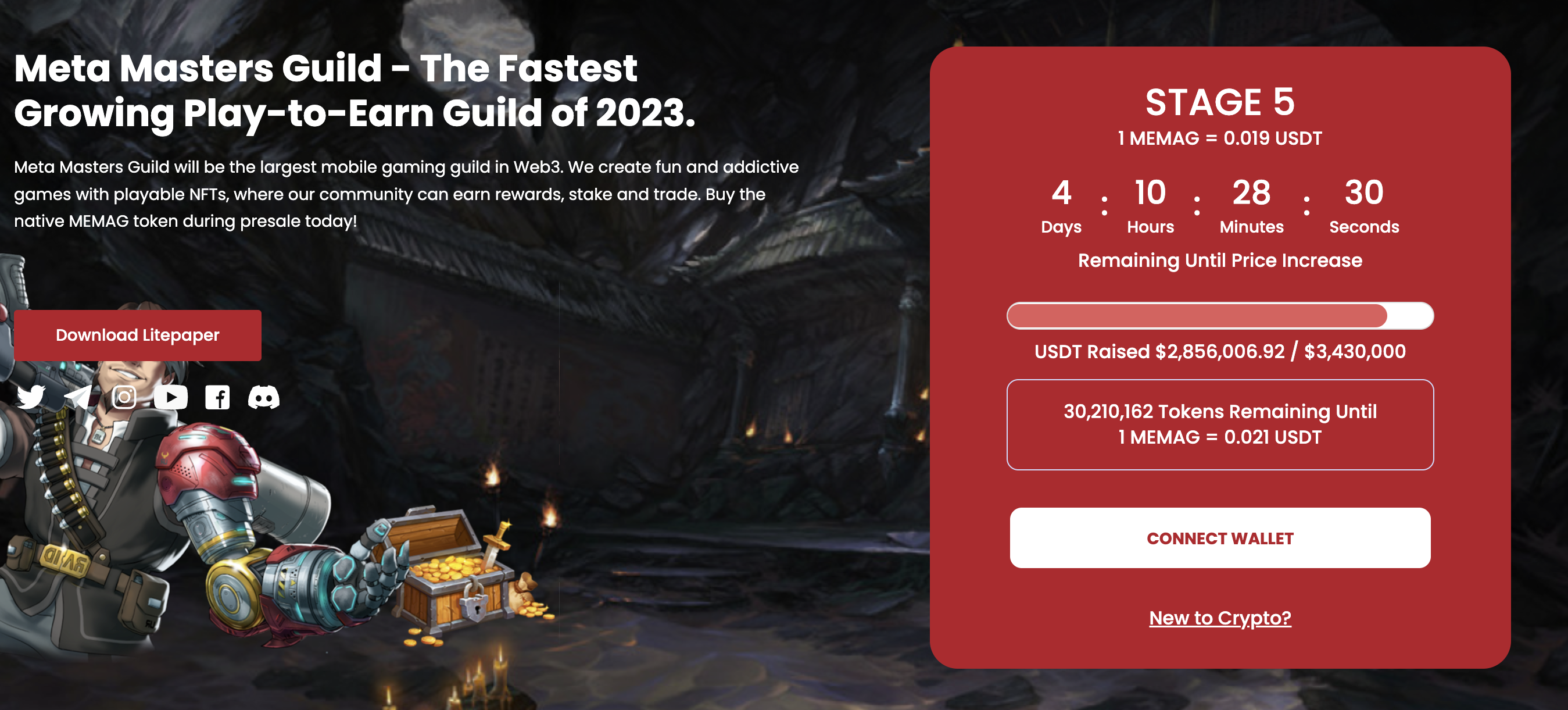 Presale for the MEMAG is taking place in seven stages, with the final stage expected to arrive in less than two weeks. By this point, the price of one MEMAG token will be up by 228.6% to $0.023. Investors can participate in the presale by connecting their Wallet Connect or MetaMask wallet to the official website and purchasing MEMAG using ETH or USDT.
The sale is expected to close in the next few weeks, after which MEMAG will list on the cryptocurrency exchange for the first time in the Q2 of 2023.
Meta Masters Guild is built on a strong foundation that makes it an attractive investment opportunity. The platform is set to launch its first game, Meta Kart Racers, by Q3 of 2023 and will focus on developing several metaverse-focused games at a time when interest in these areas is growing rapidly.
The MEMAG token will play a crucial role in the gaming ecosystem as a governance and utility tool. With a fixed maximum supply of 1 billion tokens, the scarcity of MEMAG is expected to drive up demand as it will allow its holders to participate in voting on governance proposals, staking, and purchasing in-game items.
The imminent listing of MEMAG on exchanges is expected to further increase its value, especially given the growing popularity of Meta Masters Guild's games. Hence, it could be considered a valuable investment opportunity for those seeking a potential price appreciation.
Last year, 2022, was a good year for presales, with some coins rising by over 1,000% after their first exchange listing. Given Meta Masters Guild's ambitious plans, MEMAG has every chance of experiencing similar growth.
4. FightOut (FGHT)
Fight Out is a new cryptocurrency in the move-to-earn (M2E) space that seeks to gamify fitness and weight loss. With the Fight Out mobile app, users will have access to personalized training from elite trainers and high-definition exercise videos.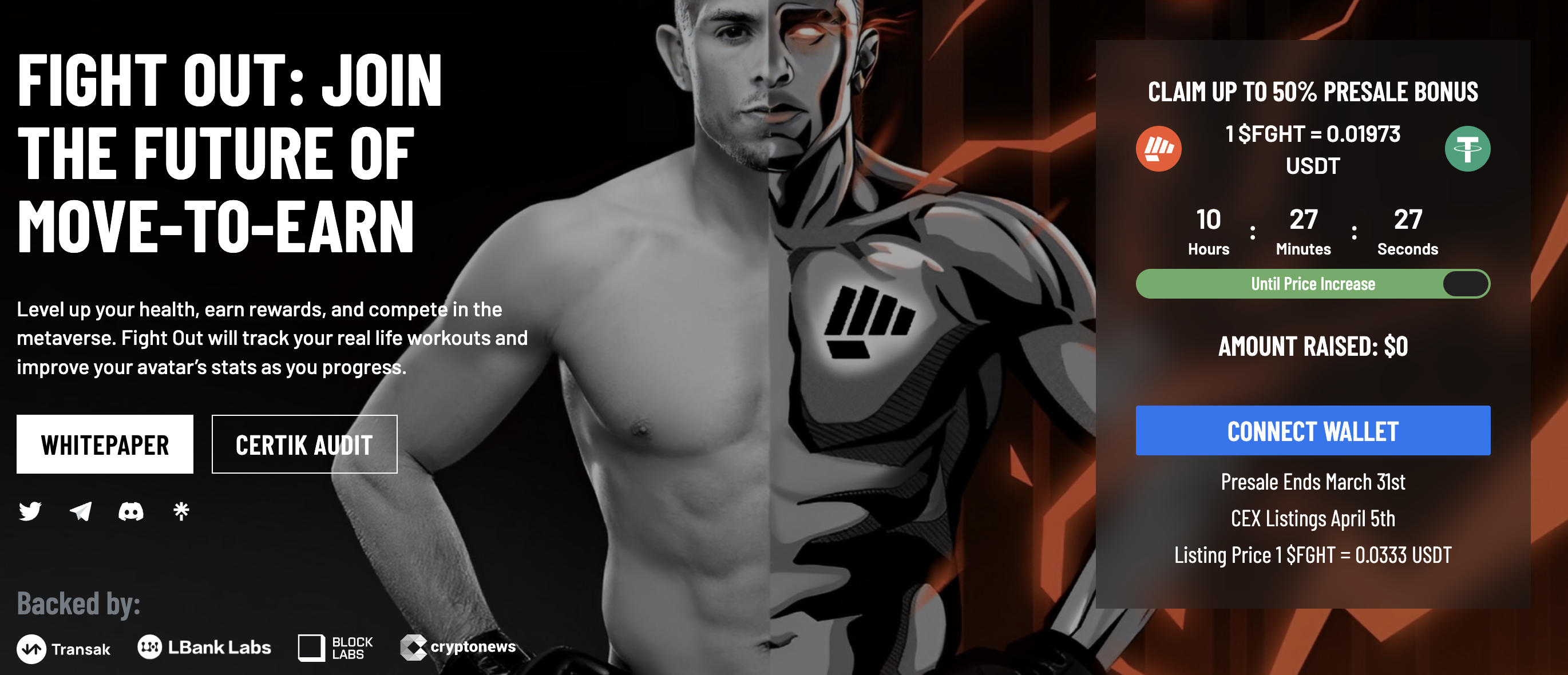 When workouts are completed, users are rewarded with REPS, an off-chain currency that can be used to purchase items in the Fight Out store. The project's native ERC-20 token, FGHT, can be used to buy more REPS and will have a crucial role in the upcoming Fight Out Metaverse.
Fight Out is currently holding a pre-sale where early investors can purchase FGHT tokens for $0.01961 -bound to increase with time- with potential bonuses of up to 50%. The team behind Fight Out plans to create gyms with sensors that send data directly to the app, as well as offer a co-working space, health bar, and content studio.
Fight Out is expanding on the M2E concept by rewarding users for all forms of exercise, not just walking and generating steps. The app will also offer access to Fight Out gyms and the metaverse. The monthly subscription fee grants users access to the app and M2E rewards, which are paid in REPS.
The best way to benefit from the Fight Out ecosystem and future metaverse is by purchasing FGHT tokens. Get in on the project before the token price increases, since the earlier you invest the more you earn when the tokens get listed.
5. C+Charge (CCHG)
C+Charge, or CCHG, is a US-based cryptocurrency project with the goal of revolutionizing the electric vehicle (EV) charging process. Utilizing a peer-to-peer payment system through its mobile app, EV drivers can pay for charges with CCHG tokens stored in their crypto wallet.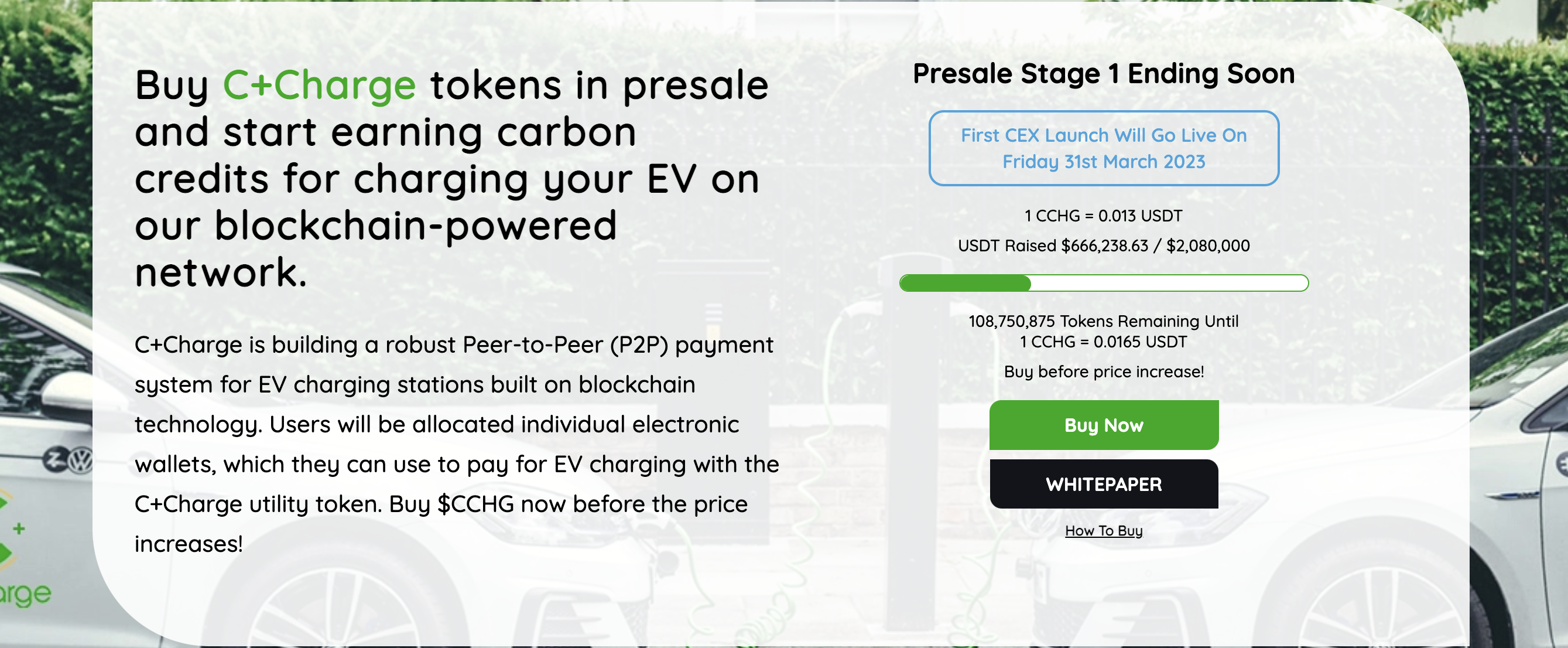 The network incentivizes eco-friendliness by awarding NFT-based carbon credits to its users. With the launch of CEX in March 2023, there is expected to be a significant boost in token value as more users participate.
C+Charge is an innovative web 3.0 platform that addresses the imbalance and inefficient payment system currently plaguing EV charging. The deflationary CCHG token allows for seamless PoS payments between EV drivers and charging stations, and users are rewarded with carbon credits for eco-friendly actions.
The C+Charge app offers useful information, such as the nearest charging station, cost of charging and wait time, making it the ultimate tool for all EV owners to efficiently interact with their vehicles. With a current trading price of $0.013 and has raised over $637k so far, CCHG is poised for success and is considered a top crypto to invest in for Feb 2023.
Don't miss out on the presale for CCHG, as you can acquire tokens at a discounted price before it hits the market. With its unique use case, the future of C+Charge looks bright, making it a smart investment opportunity for the year.
6. RobotEra (TARO)
RobotEra, the virtual gaming platform, has been making waves in the Web3 community with its innovative play-to-earn approach. The game allows players to not only have an exciting gaming experience but also earn rewards in the form of cryptocurrency. Its native token, TARO, which operates the in-game economy, has become a highly sought-after metaverse crypto to buy.
The game provides a vast, multi-dimensional platform with a variety of features that allow players to design their own avatars, construct assets, mine tokens, and even create video games. Players have complete ownership over all assets within the game, which are represented as NFTs.
One of the game's standout features is its user-friendly scripting language that enables players to develop and publish their digital assets and trade them within the game. This opens up a vast market for brands to advertise their products and engage with their target audience in high-traffic areas.
Investing in TARO is a wise decision as the token has already raised more than $814,000 in its presale, and its price is expected to continually increase as each stage of the presale progresses. Currently, TARO is priced at $0.020, offering investors the chance to acquire the token at a fantastic price before it increases to $0.025 in the second stage of the presale.
RobotEra presents a one-of-a-kind opportunity for players to immerse themselves in a dynamic virtual world and earn rewards while maintaining control over their assets. With TARO's popularity on the rise, now is the time to invest in this innovative metaverse crypto platform and enjoy the benefits of play-to-earn gaming. Don't miss out on the current offer, purchase TARO now before it's too late.
Conclusion
Today, we assessed some of the best-performing tokens in the market as of now, as well as went over new crypto projects that aren't any less promising. While these projects have made it to the spotlight today, as an investor, it's best if you conduct your due diligence before investing in any project.
Related Articles
Fight Out (FGHT) – Newest Move to Earn Project
CertiK audited & CoinSniper KYC Verified
Early Stage Presale Live Now
Earn Free Crypto & Meet Fitness Goals
LBank Labs Project
Partnered with Transak, Block Media
Staking Rewards & Bonuses