The crypto market had been moving sideways throughout the week after undergoing a big rally on Feb 14. On Saturday, however, most cryptocurrencies resorted to a downward trend, with bitcoin falling below $23,000.
Amidst this, a few tokens still managed to outshine and maintain their performance in the green. And in this article, we are going to take a look at such tokens, along with some new projects currently in their presale stage, that you must definitely add to your portfolio.
Biggest Crypto Gainers Today February 25
1. Stacks (STX)
After being relatively inactive for over 6 months, STX recently made an appearance by rising more than 140% in just about a week. The token is currently trading at $0.6634, up by more than 200% since the start of the year.
Stacks enable users to write smart contracts for the Bitcoin network, and STX's current uprising was partly a result of bitcoin's price increase. Plus, projects in the Stacks ecosystem are trying to make gains from the hype around Ordinals that are similar to NFTs but referred to as digital artifacts.
More than 150,000 ordinals have been inscribed on the network over the past few weeks, and the co-founder of the project has suggested that the craze around Ordinals is directly linked to rising interest in Stacks protocol.
Similar to how layer 1 solutions for blockchains such as Ethereum and Solana grow with the increase in demand for blockchain networks. Stacks too is expected to grow with the growth of the Bitcoin ecosystem as it helps build onto the network.
Investors looking for projects that run parallel to Bitcoin can consider Stacks to be an ideal investment as it is one of the key players in the scalability of the Bitcoin ecosystem.
2. Enjin Coin (ENJ)
Enjin Coin has seen a steady increase in price since the start of the year, climbing over 80% in January itself and a high of 20% in February. Although the token underwent a correction recently and fell by over 8%. ENJs price-performance was fueled by bullish news from Coinmarektcap's spotlight report, as well as positive sentiment from the FOMC meeting. The token is currently trading at $0.478 with a market cap of $478 million.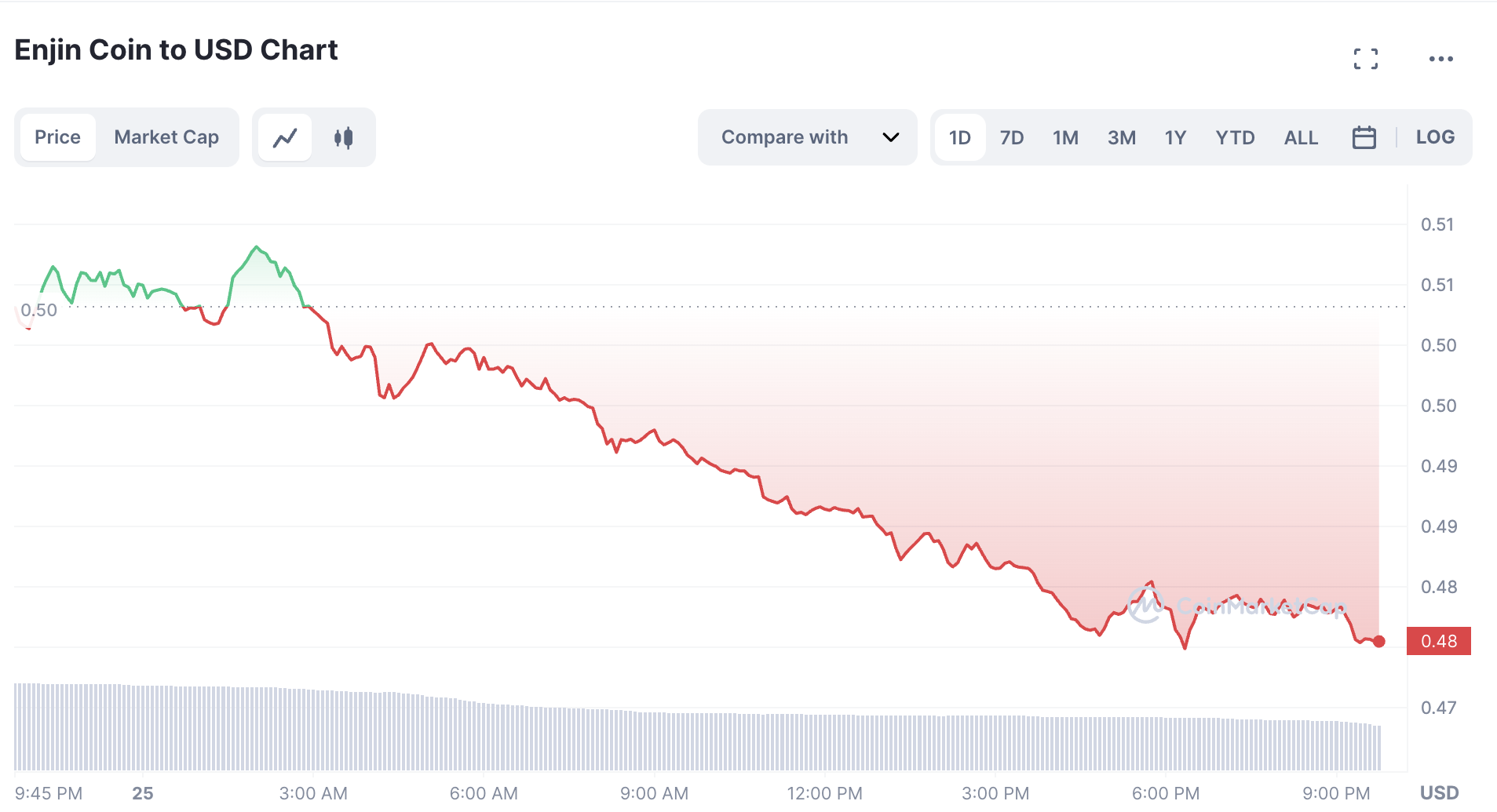 Enjin coin has a blockchain-based platform that can create virtual goods for video games and digital applications. The company has been around for over 14 years now and has lent a big hand in building the blockchain architecture.
The network has low transaction fees and high-security features that make ENJ a preferred choice for users. The token is based on the ERC-20 standard and can be used to purchase virtual goods and in-game assets in the Enjin ecosystem.
Notably, investors have been constantly eying the token for investment, as it continues to display an outstanding performance, in part supplemented by its increasing partnerships, game launches and increased demand for virtual goods.
ENJ will play a big hand in the future of gaming and can be considered to be a great investment to add to your portfolio.
3. Fight Out (FGHT)
Fight Out plans to make a groundbreaking impression in the fitness world, by introducing a move-to-earn platform that combines cryptocurrencies and fitness. The project introduces a mobile app that doesn't just track your daily steps, but your entire fitness routine.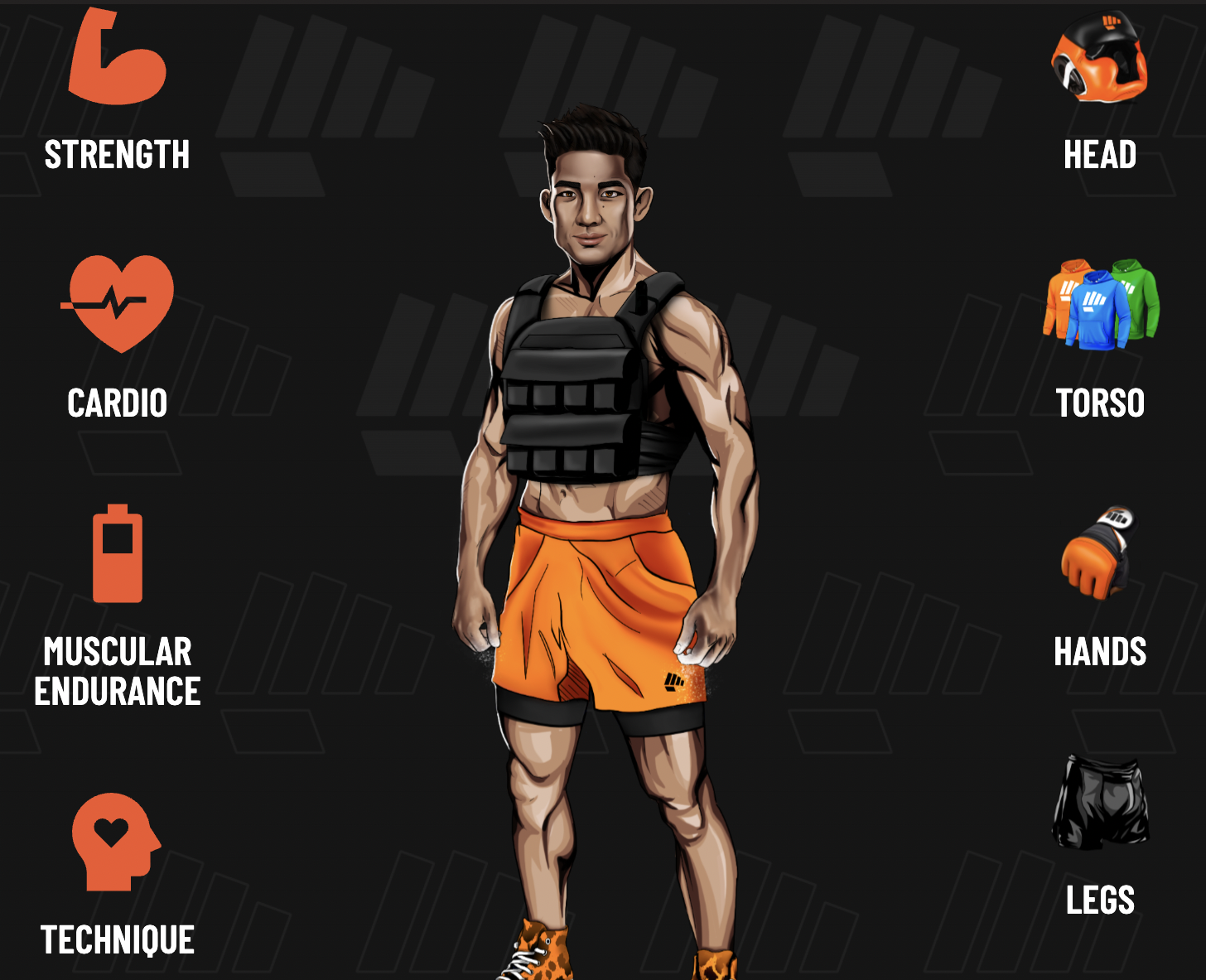 Players will be assigned tasks as a part of their fitness regimes, and upon completion, they'll receive rewards in the form of REPS tokens, an off-chain currency for the platform. These tokens can be used to purchase upgrades and cosmetic items in Fight Out's in-game store.
Players will compete in leagues and tournaments and participate in various challenges to earn rewards. Some of these challenges will be hosted in physical gyms that can be accessed with the Fight Out mobile app.
Users will be able to choose a digital NFT avatar when they enter the metaverse. As you continue with your exercise routine and improve your strength, the avatar too will become stronger by following your progress. This avatar can also be seen on a virtual screen in gyms associated with Fight Out.
The platform has onboard professional athletes onto the platform who will host challenges and give proper guidance in the form of instructional educational videos. In addition to this, the platform will also help create a thriving community, so players don't feel alone on their way to completing their fitness goals.
So, how do you become a part of this revolutionary project? It's simple. Fight Out is hosting a presale for its native token FGHT, where the tokens can be purchased for 0.02467 USDT at the time of writing. This price will continue to increase until the end of the presale, after which the tokens will list on centralized exchanges for 0.0333 USDT.
The presale will continue till the end of March and will be followed by an exchange listing on April 5th. So far, the project has raised over $4.7 million and now is the best time to invest in Fight Out.
4. C+Charge (CCHG)
C+Charge is an all-new innovative crypto project that is set to revolutionize the landscape of EV Charging. While the industry has flourished over the past decade, EV charging still lacks an important component that has been inhibiting its adoption; a lack of uniformity in payment methods for charging.

C+Charge provides a solution for this with its official token CCHG, which can be used to pay for EV charging across charging stations. The platform also plans to build its own charging stations, in addition to creating a network of already existing charging stations.
Users will also be able to locate the nearest charging station in their area with the help of C+Charge's massive network, which can be incredibly helpful for planning long trips. This will not only save a lot of time for EV owners but also make an argument for the risk associated with not finding a charging station, which has limited the acceptance of electric vehicles.
The C+Charge will also offer a diagnostic feature, where an EV owner will be able to check the health of their vehicle before a long commute. In addition to this, the platform will reward a user with carbon credits, every time they use CCHG tokens to pay for charging. Effectively reducing their carbon footprint on the environment.
To become a part of the project, you can participate in the C+Charge presale by purchasing CCHG tokens from the official website. The presale has raised $1.6 million for far, with CCHG tokens available to purchase for 0.017 USDT.
Now is a great time to get in on the project as the token price will increase to 0.018 in less than four days. Once the presale is completed, CCHG tokens will list on centralized exchanges as of March 31st, 2023.
5. RobotEra (TARO)
RobotEra offers a narrative-driven gameplay set on Taro, a planet destroyed by an army of robots, who must now bring it back to life if they wish to survive. 10,000 robots with human-like thoughts and emotions, must complete tasks to set up an ecosystem that could support a new life.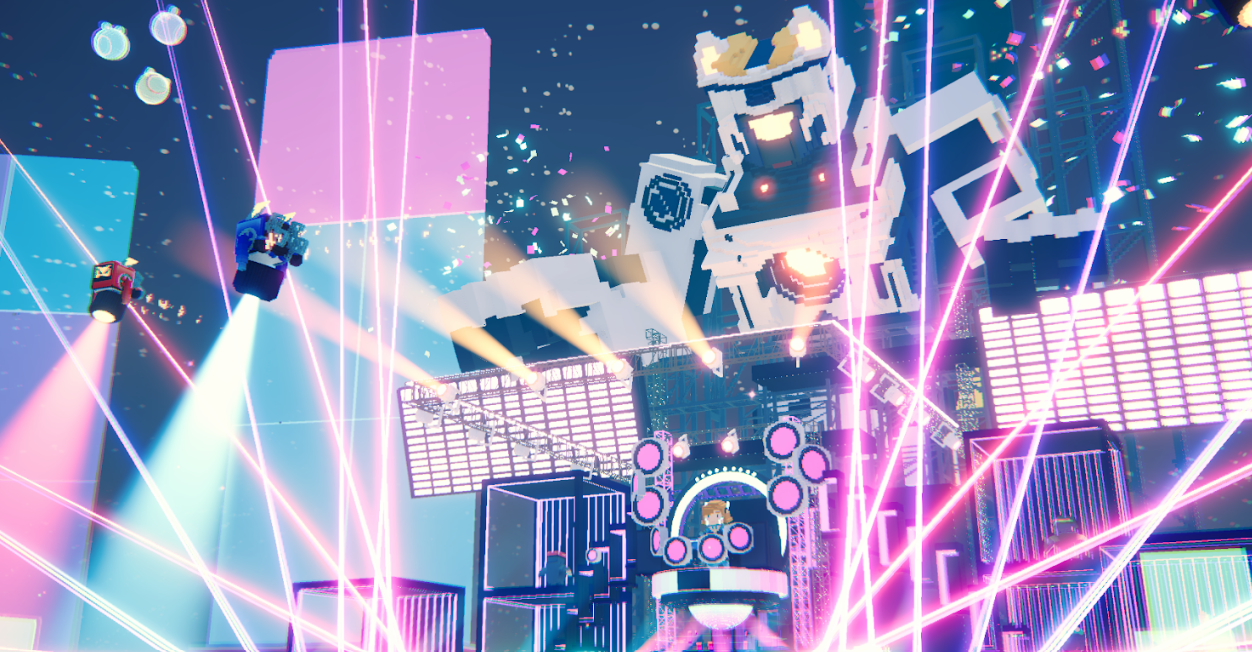 In the game, players will become robots and explore the vast world of RobotEra. This innovative web3 experience will allow players to own land, and customize it according to their preference to prosper in the new world.
All robots will belong to seven fractions, each with their set of abilities and benefits, as they explore the metaverse with their robot companions. The game will also allow players to trade or rent these robot companions, in addition to mining resources and receiving airdrops as they acquire NFTs in the metaverse.
Robot companions can be created with the machine component workbench and the robot companion workbench provided by RobotEra, where each robot will have a unique appearance and this can be customized using the Robot Editor.
Players will also be able to acquire land, upon which, they can build whatever they want using their imagination. This can be converted into a revenue stream, either by leasing the property on the land or selling the land altogether after appreciating its price by building infrastructure.
The platform will reward players for their participation with TARO tokens, which will also be used to trade all in-game assets or pay for any services inside the metaverse. TARO forms the foundation of RobotEra and these tokens are currently available to purchase under a presale, where investors can get their hands on the tokens for just 0.020 USDT. This price will soon increase to 0.025 USDT once the presale progresses into the next round, so it's best to hurry to get these tokens at a discount.
Conclusion
The crypto market has opportunities for everyone, and today, we took a look at five such tokens that have great potential to make it big in the future. With that being said, remember to do your due diligence before investing in any cryptocurrency.
Related Articles
Fight Out (FGHT) – Newest Move to Earn Project
CertiK audited & CoinSniper KYC Verified
Early Stage Presale Live Now
Earn Free Crypto & Meet Fitness Goals
LBank Labs Project
Partnered with Transak, Block Media
Staking Rewards & Bonuses