The crypto market has shown recovery signs in recent weeks, with Bitcoin (BTC) hitting $30,000, a significant 6.40% increase in the last 24 hours.
This development has triggered many crypto assets set to emulate Bitcoin's bullish trajectory.
As the crypto market continues to gain huge market traction, more projects are incorporated for investors to purchase.
Currently, there are over 22,000 crypto assets available in the market. While these assets have investment potential, they are not without risk.
There are numerous tokens to choose from, and volatility is unpredictable, as evidenced by last year's crypto bearish run, which included the crash of Terra Luna, a stablecoin anchored to the U.S. dollar.
However, it is important to make the right choice before purchasing cryptos. In this article, we've selected the best seven crypto gainers today based on technical and fundamental analysis, utilities, and huge gains potentials.
Conflux ($CFX)
Starting our list of top gainers is Conflux, with a 16.24% rise in price value in the last 24 hours. The Conflux is a versatile decentralized and hybrid permissionless platform.
Unlike Bitcoin and Ethereum with linear structure, the hybrid projects feature a Tree-Graph divergent structure that enables users on its network to process multiple blocks simultaneously with higher throughput seamlessly.
The platform also has the ability to deploy smart contracts and decentralized applications (dApps). Conflux is compliant with crypto-prohibited regions like China, as it allows new projects to enter the local market.
So far, its utility token, $CFX, is riding on a new wave based on its throughput structure and enthusiasm for crypto within China.
According to CoinMarketCap, 1 $CFX token trades at $0.43 with an astounding 24-hour trading volume of $571.6 million.
The digital token is currently ranked the 46th biggest crypto with a live market cap of $1.2 billion and a supply of 2.7 billion CFX tokens.
The technical analysis of $SFX indicates a bullish trajectory. The simple moving average (SMA) indicator for 200-day and 50-day indicates signals "BUY."
The relative strength index (RSI) signals whether a crypto token is oversold (below 30) or overbought (above 70.) The $SFX token's RSI sits at 62.56, indicating that the versatile crypto token is nearing an "overbought" zone.
Injective ($INJ)
The decentralized finance space (DeFi) is saturated with new projects that aim to incorporate core features that stand out from fellow competitors.
One such is the Injective Protocol, an iconic platform that embeds layer-2 blockchain solution that allows investors to access diverse DeFi markets most simply and securely.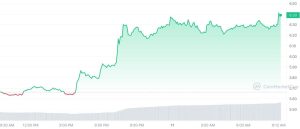 The protocol assets to construct a stellar economy that is fully decentralized and invent transparent, legitimate, and secure payment solutions for exchanges and remittances.
At the heart of the Injective Protocol is its native token, $INJ. The token powers governance, incentives, collateral backing for derivatives, and many more.
As of press time, the $INJ token is priced at $6.39, with over a 13.66% rise in price value in less than 20 hours. The digital asset has a 24-hour trading volume of $96 million and an 80 million circulating supply of its coins.
Ranked as the 87th biggest crypto with a market cap of $514 million, the Injective project will continue to create solutions that enhance the crypto industry to stay decentralized.
Regarding technical analysis, the $INJ 200-day simple moving average (SMA) is $2.56 and $4.19 for a 50-day. The digital asset is trading above both SMA's, signaling a BUY.
The relative strength index (RSI) indicator sits at 70.86, suggesting that $INJ is trading at an overbought zone – this shows the digital token price is set to increase further.
Love Hate Inu ($LHINU)
Love Hate Inu is a worthy mention of the crypto meme coin genre. The innovative platform is a web3-powered ecosystem that integrates a unique vote-to-earn (V2E) model that enables participants to vote on trending topics and earn incentives for participating.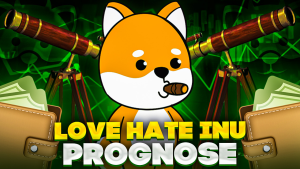 Although great voting platforms exist, including social media channels like Facebook and Twitter, participants are often restricted from sharing their opinions based on sanctions.
However, with Love Hate Inu, there are no sanctions. Members can vote on politics, sports, education, socialization, celebrity frenzy, entertainment, religion, and much more.
It is worth noting that Love Hate Inu is deployed on the Ethereum blockchain, enabling all votes and results to be transparent, legitimate, and tamper-proof.
Hey #LoveHateInu Crew!🐶💪

We've got some great news to share!🚨

Our #Presale just hit another great milestone, reaching $3.4M!🎉

And it's all thanks to YOU!🙌🤝

So stay tuned, because you won't want to miss out on what's coming next!🚀https://t.co/Pu2Bo8WOUy#AltCoins pic.twitter.com/3NaEzH7hsS

— Love Hate Inu (@LoveHateInu) April 11, 2023
Already on presale, the meme sensation native token, $LHINU, has garnered strong interest from early investors, raising a whopping $3.48 million.
At press time, 1 $LHINU trades at a discounted presale price of $0.000105. However, the price will gradually increase to $0.000145 when it lists on exchanges.
Love Hate Inu's transparent and secure mechanism is poised to be adopted by brands and industries seeking to gauge customer satisfaction or the most honest opinions on a contentious issue.
This will generate great returns for its utility token and potentially enact the run of predecessors like Dogecoin and Shiba Inu.
DeeLance ($DLANCE)
DeeLance is a decentralized web3-based platform that revolutionalizes the recruitment industry and creates a seamless hub where freelancers and employers connect.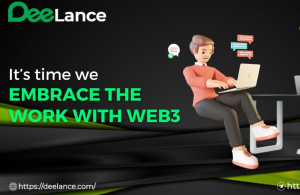 The innovative platform embeds the metaverse sphere, a non-fungible token (NFT) marketplace, and a transparent and secured payment structure.
The DeeLance ecosystem potentially transforms the freelancing landscape to enable creatives to connect with clients, collaborate, and exchange ideas, services, and financial perks.
Users can secure ownership of their service via tokenized NFTs that can be transferred when the agreed payment is processed.
Exciting news for the #DeeLance community!🎉

Our platform just got reviewed by Jim Crypto! Check out the video here and see what they have to say about us!https://t.co/GhuKbOJVlU

Join the #Presale & get some $DLANCE now!⤵️💰https://t.co/WJf7X2b0us#blockchain #Crypto #web3 pic.twitter.com/awf6BZmO1i

— DeeLance (@deelance_com) April 10, 2023
Employers are also protected as payments are locked in a smart contract-powered escrow. When the service is approved, the escrow release funds to freelancers and transfers contract ownership to employers via NFT.
The revolutionary ecosystem also provides NFT avatars for freelancers and recruiters to explore the metaverse, advertise their portfolio, set up virtual offices and interviews, and much more.
Transactions on the DeeLance metaverse are powered via $DLANCE. Currently, on presale, traders can purchase the token at a discounted rate of $0.025 USDT each.
With over $88,000 raised, many crypto enthusiasts are bullish on the $DLANCE price soaring.
Metropoly ($METRO)
Metreopoly is a cutting-edge platform that aims to disrupt the conventional real estate industry by simplifying how investors purchase properties globally.
The conventional real-estate industry has often been perceived as a wealthy investment option for the rich due to its roof-top pricing range for properties which scares budget-based investors.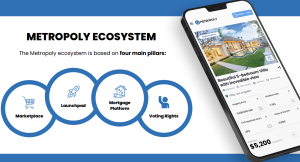 Metropoly asserts to proffer a solution to this challenge by providing a fraction-based payment option for properties.
$METRO PRE-SALE ENDS SOON! ⏰

💸 1.2 Million USD raised
👥 3000+ Participants
🌐 Beta is Live

Get passive monthly rental income by investing in real estate worldwide in seconds, not months! 🏠💰

Pre-Sale Link
👉 https://t.co/PrZ9uUYFRW pic.twitter.com/LScwBvyFYk

— METROPOLY – PRE-SALE IS LIVE! 🔊 (@metropoly_io) April 11, 2023
Investors in the Metropoly ecosystem can buy a fraction of their favorite crypto for as low as $100 in less than 10 seconds.
This is a major improvement in the real-estate sector as properties often feature a minimum pricing range of $6,000 to $10,000, and it takes up to 60 days for ownership of the purchased property to be changed.
The platform's token, $METRO, is in stage twelve of its presale, with over $1.23 million raised in investment.
Priced at $0.08 per token, investors can leverage the utility token's low price and earn potential high returns on investment.
Ecoterra ($ECOTERRA)
Ecoterra is a unique blockchain project that aims to disrupt the conventional recycling industry and solve global climate change issues.
The platform integrates a recycle-to-earn (R2E) model that incentivizes members with its native token, $ECOTERRA, to recycle waste products such as plastics and used bottles to prevent fossil fuel use.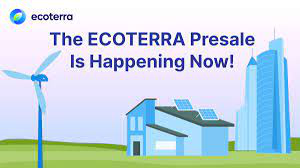 The ecoterra platform embeds an impeccable approach to saving the planet and incentivizes members for their efforts in promoting an eco-friendly environment.
Now on presale, $ECOTERRA is priced at $0.004 USDT per token and has generated over $366,000 from early adopters.
Ecoterra is perfect for investors keen to be an agent of change in the global world and still earn financial perks for their unparalleled efforts.
RobotEra ($TARO)
Rounding up our list of the best crypto gainers is RobotEra ($TARO). The revolutionary project is a metaverse-powered gaming platform that offers a sandbox-like experience to members.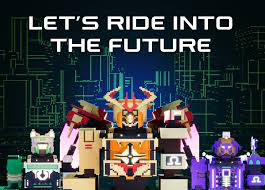 This cutting-edge project aims to develop an immersive and interactive platform that combines entertainment, creation, management, exploration, and interaction while providing a frictionless play-to-earn experience.
RobotEra distinguishes itself from diverse gaming projects due to its virtual and augmented reality and simple Minecraft-like building tools, which allow participants to personalize in-game items, avatar robots, lands, and real-estate structures.
Greetings #RobotEraArmy!👋

Get ready to trade your favourite #NFT commodities such as continents, robot companions and more at the $TARO marketplace!💰💎🤖

Ready to seize the opportunity?💪

Join the #Presale and get some $TARO today!🚀🌕https://t.co/kBJJdpfpg4#Play2Earn

— RobotEra (@robotera_io) April 11, 2023
Players can use the platform's digital asset token, $TARO, to buy in-game items and earn TARO tokens by trading them on RobotEra's in-app marketplace.
As of press time, 1 $TARO trades at $0.020 USDT and has raised a record-breaking $1 million in presale investment.
Still selling at a fast rate via presale, investors now have the chance to lock into the future of the metaverse.
Conclusion
In this article, we've reviewed seven impressive crypto assets that are set to take the market by storm due to their utility, technical and fundamental analysis, and potential for huge gains.
However, the crypto market remains volatile. We reckon investors should conduct in-depth research, such as their portfolios, goals, and risks, before investing in any asset.
Love Hate Inu – Newest Meme Coin
Decentralized Polling – Vote to Earn
Early Access Presale Live Now
Ethereum Chain
Featured in Yahoo Finance
Mint Memes of Survey Results as NFTs
Staking Rewards
Viral Potential, Growing Community