Aptos continued to pump this week. In this article, we evaluate the price analysis of Aptos and a potential Aptos price prediction for 2023. This week has seen a lot of optimism in the cryptocurrency markets, and it's likely that Aptos is currently headed for a significant recovery. Aptos has recently proven strong potential, and you should assess whether this is a good long term investment.
The full Aptos price prediction in the video above, follow his YouTube channel for more crypto price predictions.
About Aptos
Aptos is a highly scalable Layer 1 blockchain that was developed by a team of former Diem engineers. This team came together to overcome the concerns of reliability, safety, and usability that are holding back the widespread adoption of blockchain solutions.
From the official Twitter of Aptos Network has announced their first ever Aptos Twitter Spaces in Mandarin.
Aptos NFTs are back – this time to commemorate our first ever Aptos Twitter Spaces in Mandarin!

Set a reminder for the Space now + tune in for a chance to get yours ⬇️https://t.co/yg8UAhE6Tx

— Aptos (@Aptos_Network) January 14, 2023
The mission of the group is to create a blockchain that is both secure and as similar to final product as can be found anywhere in the world, with the ability to ease the transition of the industry as a whole to a Web3 structure that is both scalable and upgradeable.
How it Works
A team of Facebook Diem engineers is building Aptos, a high-throughput blockchain. Aptos uses the Byzantine Fault Tolerance (BFT) consensus technique to keep networks running even if a node fails.
Aptos uses Diem's Move programming language for safe resource management and verifiable on-chain executions. Aptos says Move implements accounts, transaction fees, an universal library, validator node management, and configuration.
APT Price Analysis
In recent week Aptos Network has been one of the most trending cryptocurrency assets and as of today, January 15th, the current price of Aptos is $8.38, and it has a market valuation of $1.09 billion, a 24-hour trading volume of $1.92 billion, and a market dominance of 0.11%. In the previous 24 hours, the price of APT climbed by 11.53%. The current crypto ranking is 43. On October 19, 2022, the price of Aptos was trading at its all-time high of $ 13.73.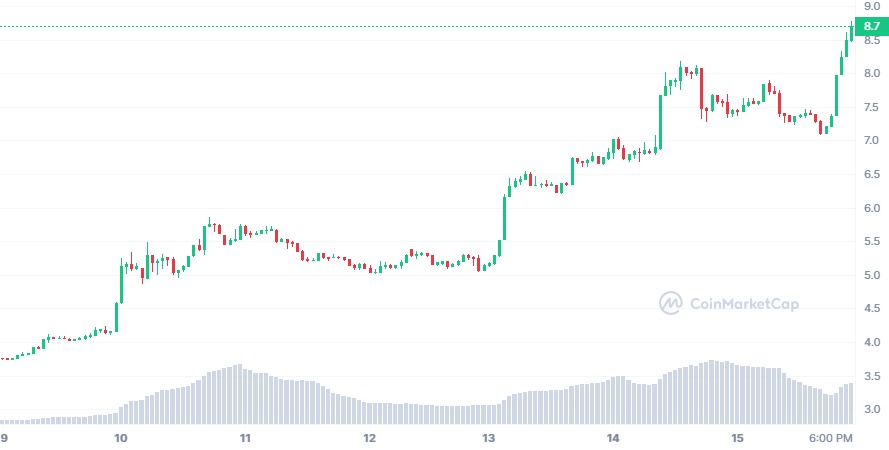 It was trading at $5.30 a few days ago, and over the past seven days, it has continued to increase significantly. It was trading in this horizontal channel sideways and had a rising wedge pattern, which we can see of losing support in this rising wedge. It had perfectly traded sideways consolidated along this crucial support level of $5.29 and got a pump all the way up to $6.90, which is the key resistance level.
APT Price Prediction
We can see that there is a bearish divergence, which is producing a lower high on the RSI as well as a higher high on the price structure, so try not to 'FOMO' into this particular area because these highs that are connecting up and the lows that we've got down on the RSI, unfortunately, this is known as a bearish divergence.
We would definitely be speculating on some downside movement, especially following such a vicious volatile move. We anticipate a pullback to $5.27, and if that doesn't happen, we may see a drop to $6.18 for roughly $5.80 in this coin.
Related
FightOut (FGHT) – Move to Earn in the Metaverse
CertiK audited & CoinSniper KYC Verified
Early Stage Presale Live Now
Earn Free Crypto & Meet Fitness Goals
LBank Labs Project
Partnered with Transak, Block Media
Staking Rewards & Bonuses